Intraday Market Thoughts
Fed Balance Sheet in Focus
The FOMC statement is likely to backtrack further away from rate hikes but the market may be more sensitive to talk about the balance sheet. The pound fell 150 pips from its highs on Tuesday after an amendment to delay Brexit and block a no-deal failed. Cable recovered by over half a cent to stand at 1.3100 ahead of US ADP, the FOMC statement and subsequent Powell press conference. Meanwhile, USD/CNY breaks below its 200-DMA for the 1st time in 7 months, helping to propel gold to 1315.
Click To Enlarge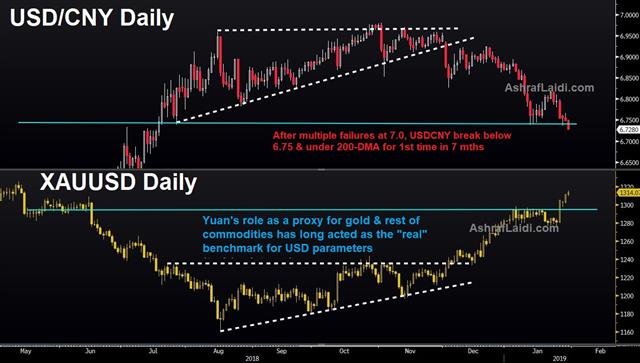 Six Brexit amendment votes unfolded largely as expected on Tuesday but the pound slumped. These events have been tough to handicap but the selling came after the Cooper-Boles amendment (aimed at delaying Brexit) failed. It would have blocked a no-deal Brexit. A later non-binding amendment saying parliament didn't want a no-deal Brexit passed but the threat remains on the table for now.
PM May emerged victorious with the Brady amendment, which endorsed an 'alternative arrangement' on the Irish border backstop, but the EU rejected any changes to the deal. May has two weeks to persuade the EU to change their mind ahead of the next meaningful vote on Feb 13. GBPUSD fell towards its 200-DMA before recovering half a cent to 1.3100.
The dollar side of the equation will be a big factor with the FOMC decision at 1900 GMT on Wednesday. Look for a downgrade in the growth assessment to something like 'solid' from 'strong' and for further less-hawkish language that still retains a tightening bias. The new rules at the Fed mean Chairman Powell will hold a Press conference on each of the 8 Fed meetings of the year and not just 4 times per year as was previously the case.
Fed shifts focus to balance sheet from interest rates
For starters, the FOMC statement should contain a more dovish statement than the December statement. But that's no surprise considering the recent speeches from Powell & Co. Traders will be especially tuned to comments on quantitative tightening i.e. unwinding the balance sheet. A WSJ report on Friday hinted that
Powell may keep a large balance sheet than previously signaled and that may have led to the late-week slump
in the US dollar.
Will the balance sheet become the Fed's new guidance. The Fed can no longer refer solely to semantic tools on changes in Fed Funds rate. The pace of the balance sheet may become a more valuable communications focus.
Overall, however, the risks may be skewed towards a higher dollar or a risk-off trade. The rebound in equity markets in the past three weeks along with some decent economic data has alleviated the risk of a rapid US slowdown. It may only take a minor hawkish hint to send markets spiraling.
Act
Exp
Prev
GMT
FOMC Statement
Jan 30 19:00
FOMC Press Conference
Jan 30 19:30
CPI (q/q)
0.5%
0.4%
0.4%
Jan 30 0:30
Latest IMTs