Intraday Market Thoughts
Fed Stands Ground, Bears too
The FOMC hiked rates for the fourth time this year in a move that was mostly expected but in statement that emerged less dovish than the dot plot forecasts. The downward impact on equity indices was greater than the upward impact on the USD. Now USD is lower across the board and indices off the Asia lows. Although the Fed signalled 2 hikes instead of the expected 3, Eurodollar futures (see chart) below are pricing rate cut for 2020. The Dec Philly Fed index dropped to a 28-month low. The Premium long in gold finally hit its final target at 1253, while the DOW30 was stopped out. Both of the USDJPY and EURUSD Premium trades are deepening in the green.
Click To Enlarge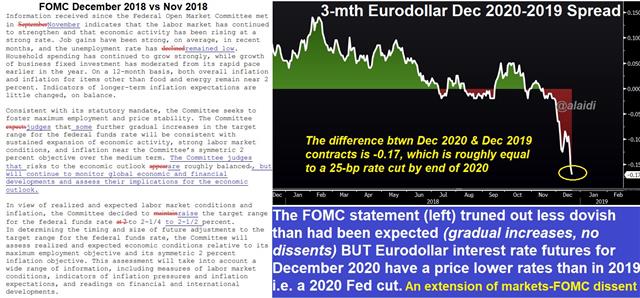 Equally important was the message about what's coming next. On that front, the Fed retained more of a hawkish bias than the market would have liked. The statement said 'some' further hiking would be needed, a hint that hikes will be limited but aren't done. They also highlighted risks.
QT vs Rate Hikes
In his press conference Powell noted rising 'cross currents' and said the Fed can be patient going forward but he also took pains to emphasize the justify hikes. But why did indices
accelerated their selloff? The main reason was Powell's indication that the reduction of the Fed's balance sheet (Quantitative Tightening) will remain on auto pilot,
which was compounded the market's tightening fears following the 2 hikes signalled by the dot plot. The Treasury yield curve flattened with 2s10s now just 10 basis points from inversion, while the 3s5s briefy touched negative.
Gold retreated towards 1242 before bouncing back to a 5-month high of 1261. Yields resume their downfall to a hit an 8-month low of 2.74%, in a clear manifestation of bearish growth projections from bond traders.
Looking ahead, the market will turn its attention to global growth and trade. The question is how strong growth will be in 2019 with a particular emphasis on Chinese and European growth.
Some disappointment came early Thursday in the New Zealand Q3 GDP report. Growth was just 0.3% in the quarter compared to 0.6% expected. That sent the kiwi to a three-week low.
Act
Exp
Prev
GMT
GDP (q/q)
0.3%
0.6%
1.0%
Dec 19 21:45
Latest IMTs