Intraday Market Thoughts
FX Tectonic Plates Shifting
Brexit, the ECB and other round of risk aversion led to another strong dollar move on Thursday. GBP continues to lag all currrencies as the UK insists on introducing a new bill that will officially break the laws under the Brexit Agreement.
Tuesday's Premium short in GBPUSD hit its final target of 12820 for 240-pips.
The DOW30 trade is currently +600 pips in the green.
A few notes on today's indices dynamics are found in bottom paragraph.
Click To Enlarge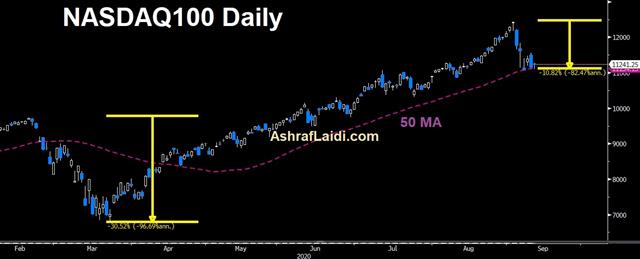 Brexit talks are going off the rails and the pound was sold hard in response. The EU set an end-of-month deadline to withdraw legislation that would violate the Brexit withdrawal agreement. In addition, Barnier published a scathing statement on the stalled negotiations and stubborn UK position.
In response cable, fell 230 pips to stabilize the June high – a level we highlighted at the start of the week.
The ball is clearly in Boris Johnson's court at this point and if he backs down there will be a sterling bounce. Beyond that, it's now clear that we're in a period of elevated Brexit tensions and that's going to make it tough for cable to break the August highs.
The other big story on Thursday was Lagarde's press conference. Lane put her in a tough spot on the currency because there was no real path towards threatening action to combat the euro rise. She was repeatedly asked about the euro and said they're monitoring it closely, but only in terms of its effects on inflation. The result was a 50-pip jump in the euro, which was eroded alongside indices ahead of the London fixing.
BoC's Macklem was also asked about the currency and delivered a response along similar lines. The difference was that expectations were low for him and there was no FX response.
Mixed in with all the news was another negative jolt to risk appetite. The US dollar was soft early in the day as stocks opened solidly higher but sentiment crumbled and the dollar surged. In spite of all the macro news – including a soft jobless claims report – equity sentiment is the overriding day-to-day driver. The S&P 500 touched Tuesday's low late in the day and closed just above it; that's going to be the key level on Friday.
So what/where are the flows today?
Ashraf laid out his Friday plan for DOW30 and SPX after Thursday's close to the WhatsApp Broadcast Group, backed up with notes and charts earlier today. The plan is based on a manifestation of intraday cyclicals, which are so far holding. Will update you later in the day.
Latest IMTs