Intraday Market Thoughts
Global Housing is Hurting, onto ISM Services
A soft weekend on UK housing on the weekend adds to a growing list of places where home prices are suffering. USD is is lower across the board ahead of key US data with CHF leading and CAD lagging as we turn to Monday's ISM non-manufacturing index (more details below).
Click To Enlarge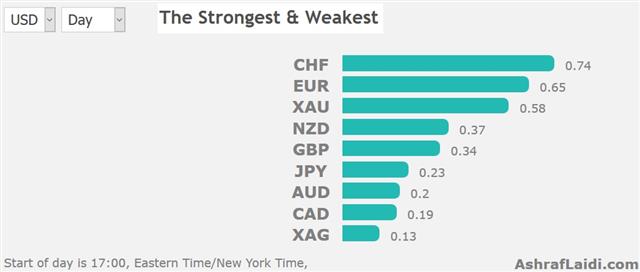 Powell's Friday comments reignited risk assets but this episode has likely capped interest rates for the cycle. What's troubling is that even with rates at these historically low levels, there are a handful of places with surprising weakness in housing. This highlights the fact that we should focus on the incremental increase in interest rates since Dec 2015 instead of the aboslute levels.
On the weekend, Nationwide reported that UK house prices fell 2.1% in the past year. They had been forecast to rise 0.5%. More worrisome is that prices are down 1.6% and 0.7% in the past two months alone.
It's far from isolated with home prices suffering in the US, parts of Canada and nearly 10% in Australia. Luxury markets have been under particular pressure with Manhattan, Vancouver, London and Sydney hard hit.
The common theme might be China where apartment prices in parts of the country are down nearly 50%. It begs the question of how much Chinese wealth was support markets elsewhere. It also adds to the worries that China's consumer is tapped out. In the bigger picture, the malaise in the housing market is another reason for central banks to keep rates where they are or lower even if the US and China settle their trade dispute.
On that front, mid-level officials are set to meet this week in Beijing and Trump signaled more progress on the weekend.
Looking to Monday's US session, the highlight is the ISM non-manufacturing index at 1500 GMT. The market is extremely sensitive to economic data at the moment and a miss would raise new questions about the US economy. The consensus is for a small dip to 59.0 from 60.7.
Latest IMTs