Intraday Market Thoughts
Gold Barely Passes so Far
Traders usually like the first trading week of the year because it wastes no time in getting back to action as ISM, NFP, ADP and other key data are released. The release of those FOMC minutes added a special flavor of extra volatility, in bolstering the possibility for a March rate hike (86% chance) and in making a June hike a slam dunk (so far).
Click To Enlarge

Click To Enlarge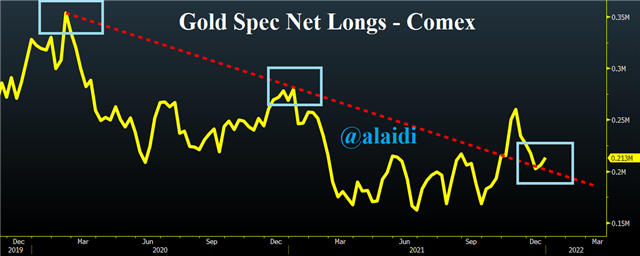 For gold bugs, XAUUSD survived another hard data test, by holding above the August trendline support, while the Goldbugs ratio remained capped as did Gold/Silver ratio—both positive end-of-week developments for XAUUSD and XAGUSD. Finally, the positioning among gold net longs remains above the previous trendline resistance, now turning into support.
10-yr yields posted their biggest percentage weekly gain since the 1st week of 2021...yes, exactly 52 weeks ago.
Next week, members of our
WhatsApp Broadcast Group
get ready to
pull the trigger
on a particular index. As for
USDJPY
, I make the case for
120
and
123
in
this video.
Latest IMTs