Intraday Market Thoughts
Great Expectations, Shaky Delivery
Another mediocre quarter and year of US growth highlighted that the recent bout of optimism is based on hope and hardly any data. JPY is the top performer early in the week while the US dollar lags. CFTC positioning data showed waning enthusiasm for the US dollar with net speculative EUR longs charted below.
Click To Enlarge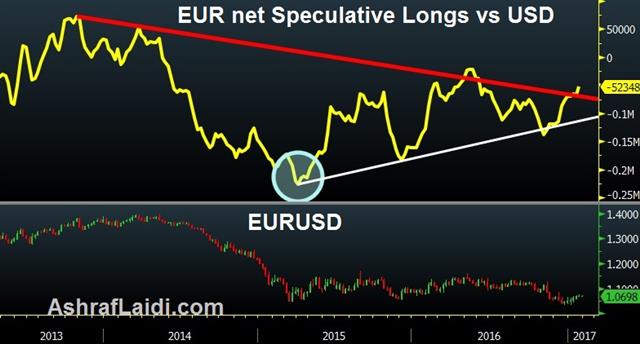 The world was abuzz on the weekend with immigration nightmares as Trump changes the rules on the fly. Aside from the politics of the move, the market is watching to see if Trump can implement policy smoothly and effectively. The impression from the latest moves was that they weren't well thought out and that isn't the kind of thing that will keep sentiment high for the longer term.
On Friday, the first look at fourth quarter US growth showed just a 1.9% q/q annualized rise compared to 2.2% expected. For the year, growth was just 1.6% to match the lowest since the crisis. There were some positive caveats in the data like solid consumer spending and the first rise in business investment in five quarters but the overall picture is much the same as it's been for the past decade.
Meanwhile, markets point to an economy that's in transition to higher growth and inflation. In terms of hard data, though, not much has changed. Sentiment indicators have risen since the election but that's just as likely to fade as the shine of the new administration wears off.
Commitments of Traders
Speculative net futures trader positions as of the close on Tuesday. Net short denoted by - long by +.
EUR -52K vs -67K prior JPY -67K vs -78K prior GBP -66K vs -66K prior CHF -14K vs -14K prior AUD +10K vs +5K prior CAD +3K vs -5K prior NZD -10K vs -12K prior
For all the enthusiasm about US growth after the election, it hasn't translated into speculative buying. That's either because the market as a whole doesn't believe Trump will make America great again, or come classes of investors are holding out on buying until they see more solid evidence.
Latest IMTs