Intraday Market Thoughts
Housing Headaches
The world's largest asset market isn't the bond market, it's housing and how it evolves is a critical wildcard in nearly every country in the world. As the Australian dollar lagged once again on Thursday, we take a closer look at the recent signs of retreat in US housing ahead of the Jackson Hole conference, where Fed chair Powell will give introductutory remarks at 15:00 London Time. US durable goods orders are up next.
Click To Enlarge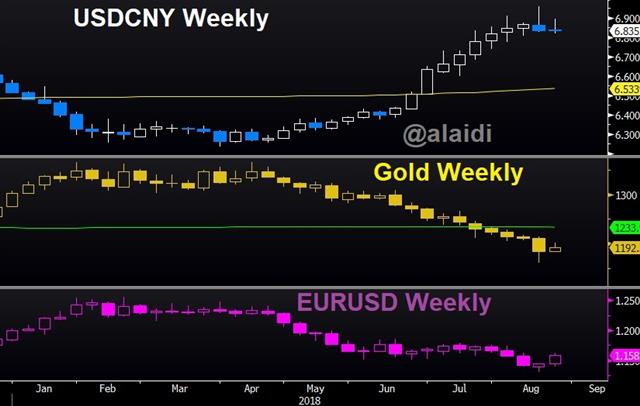 The US economy is strong. In Tuesday's FOMC minutes, most participants saw growth running above 3% this year despite an expected H2 slowdown. We find it tough to disagree with the strength of the consumer underscored by retail giant Target who reported its best same-store sales in 13 years along with a comment from the CEO that it was the best consumer environment he'd ever seen.
Yet Tuesday's existing home sales report was weak at a pace of 5.34m compared to 5.40m expected. That was the fourth straight monthly decline and sales are down 1.5% year-over-year as well. It's not an isolated report.
On Thursday it was more of the same with the FHFA house price index at the lowest since the crisis on a four-month annualized basis. New home sales fell to the lowest since October at 627K compared to 645K expected.
Most housing indicators have struggled this year. The likely issue is a mixture of higher interest rates, land-use policy and lumber tariffs but if consumers are as strong as touted, the numbers should still be better; especially with US house prices far below developed-market counterparts.
Another potential trouble spot is Australia. There are increasing reports of stress near Sydney and Melbourne, especially in less-desirable suburbs. There are waves of interest-only mortgages coming due in the months ahead and that could spell trouble with prices slumping to put some borrowers underwater.
Scott Morrison, Australia's Treasurer became the nation's sixth prime minister in 11 years after a vote by the governing Liberal Party, in which he defeated Peter Dutton, a former home affairs minister, and foreign minister Julie Bishop.
Act
Exp
Prev
GMT
Core Durable Goods Orders (m/m)
0.5%
0.2%
Aug 24 12:30
Latest IMTs