Intraday Market Thoughts
Housing Highlights non-Transitory Inflation
The post-pandemic spike in US home prices flattened recently, but the sector has been lost in the midst of inflation and growth debate. Risk trades continued to advance Tuesday with the kiwi shining. The first Bitcoin ETF started trading in the US as BTC regained the $63k mark. Overall USD weakness partly driven by the year's 2nd biggest daily decline in USD/CNH.
Click To Enlarge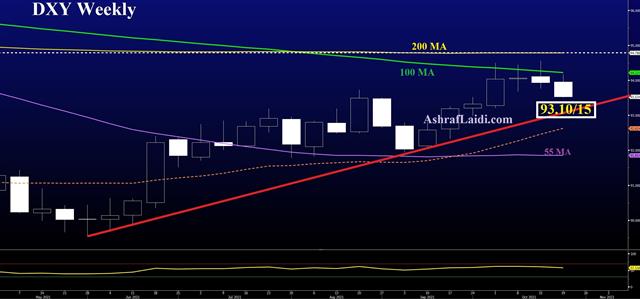 The US NAHB home builder survey rose on Monday to 80 from 76. Comments from large home builders underscore an overwhelming willingness to build, but supply chain issues and inflation make it difficult to price homes before construction begins.
That dynamic is likely why Tuesday's housing starts and building permits data was on the soft side. Starts were flat on single family homes while permits fell 7.7% in a surprise dip.
In the bigger picture, the difficulties in building homes should fuel a longer cycle of home price appreciation as demand outstrips supply. That's inflationary but it's also stimulative and will add to the savings glut in American households. It will likely resolve into stronger global growth and the US filling in some of the gap from a slowing China.
Since the financial crisis, US housing significantly underperformed developed and emerging markets, reflecting the scars from the housing collapse. But these challenges are fading, and pandemic-era shifts are creating secular demand for homes.
Within all this, keep a close eye on lumber prices, which were written off for dead two months ago. The futures market is extraordinarily thin and is outpacing the physical market but at $787 which is well above historical average prices and the August low of $472. Though it's still way below the May high of $1675, the recent trend is up.
Latest IMTs