Intraday Market Thoughts
How Bad Can it Get for Italy?
USD is on the downside alongside JPY as global indices rally on willingness from the EU to diffuse Italy's budget excesses. This followed Thursday's drubbing as Italian 10-year yields blew out again on Thursday as the EU and Italian leaders dig in for an extended battle. The saga adds to the cynicism in broad markets that sparked a sharp risk-off tone that boosted JPY and weighed on GBP. Disappointed figures from US existing home saless, Canada CPI and retail sales kept USDCAD in check.The CAD trade was stopped out and a new CAD Premium trade has just been issued ahead of Canada's data. A new intraday index trade will also be issued.
Click To Enlarge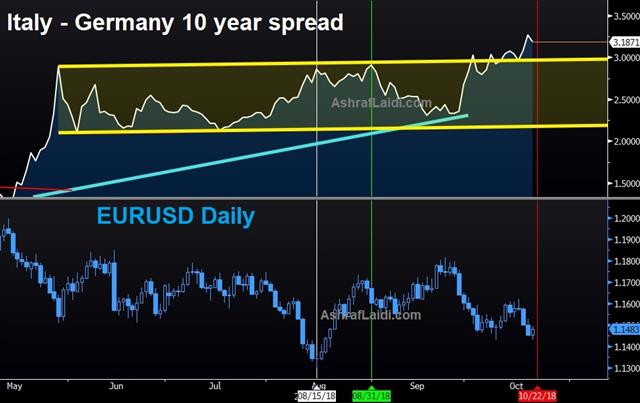 The spread between borrowing costs for 10 years in Italy and Germany widened to the most since 2013 on Thursday as Italian yields rose 14 basis points. The move came after the EU delivered a letter to Italian officials that draw a line in the sand on the budget. It said the budget had a 'significant deviation' from the rules and was 'unprecedented', calling it serious non-compliance. They said planned spending next year increased 2.7% while the max allowed under EU rules is 0.1%. The ball now is in Rome's court as it an explanation is expected from Brussels. But first, Italy's 2 coalition parties have to resolve an internal spat with regards to tax sweeteners to the wealthy initiated by the Northern League.
The risks are high no matter which side backs down. If the EU chooses to dig in and wins the battle, it may further alienate and inspire voters outside the mainstream and lead to significant anti-EU sentiment at a sensitive time.
If Italy's government wins, which is what most expect, then it will further undermine EU rules. Next Friday ratings agencies are also scheduled for an update on Italy. That will be a major risk event. Conte touched on it Thursday saying he thinks a downgrade can be avoided. The market increasingly thinks it's inevitable, with the risk of two-notch downgrade to junk.
The middle ground is narrow. The government may opt to tighten up slightly in a compromise but that's unlikely to be enough for the ratings agencies. That leaves a narrow path for any kind of success in Italy and that will be a steady headwind for the euro.
Friday will be a battle for EURUSD bulls attempting to save the 1.15 barrier.
The turmoil gave a lift to the yen in a classic risk-off trade. GBP/JPY was particularly hard hit despite upbeat words from both sides of the Brexit negotiating table. While a deal between May and EU appears to be making progress, a deal between May and her own government looks increasingly difficult.
Act
Exp
Prev
GMT
CPI (m/m)
0.1%
-0.1%
Oct 19 12:30
Existing Home Sales
5.29M
5.34M
Oct 19 14:00
Latest IMTs