Intraday Market Thoughts
How Far Can GBP Fall?
It will be a generation before a UK leader, perhaps any democratic leader, pushes his or her luck with a snap election when the polls show they're in command. Cable is down 230 pips as election results roll in and PM May's calculated gamble increasingly looks like the end of her political career. The latest forecasts show Conservatives win by about 318 seats, which may require negotiations into the weekend for the Tories to achieve a working coalition. 2 new GBP and 1 new EUR Premium trades have been issued. The previous GBPUSD long was stopped out at 1.2700, 5 pips above the session lows.
Click To Enlarge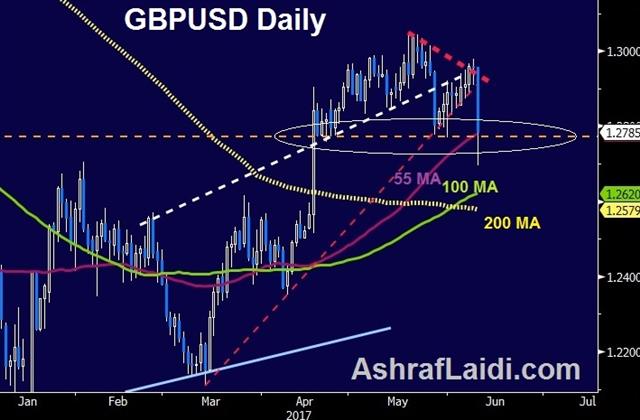 Theresa May called an election because she had a small majority and was confident she could extend it on a message of strong, stable governance. Instead, she stumbled during a campaign that the public rightly saw as opportunistic and destabilizing.
3450 of 650 seats have been reported so far but if the trends hold and the exit polls are correct, it looks like a managable hung parliament. Or, will Jeremy Corbyn's rebounding Labour Party extend its advances through the night for a possible coalition with SNP and LibDems?
Either way a hung parliament appears certain and that's challenging for the pound. The 230 pip fall to 1.2730 so far doesn't full capture the extent of the newfound uncertainty. The EU wanted to begin Brexit negotiations next month, now we don't even know who they will be negotiating with. And if it is a hung parliament, the negotiators could be changed by another election.
We continue to monitor the 1.2740-1.2760 territory as the crucial support for GBPUSD. One piece of good news for the pound is that the two-year clock that started after Article 50 was initiated will be extended, maybe by years. Or maybe, just maybe, Corbyn decides on calling another referendum and the UK decides to stay. Another piece of good news is that minority governments love to spend and that kind of short-term stimulus could boost growth.
So while it's not as clear and isn't likely to materialize as quickly, this could be a US election redux, especially if Corbyn can cobble together a stable minority that isn't afraid of deficits.
Latest IMTs