Intraday Market Thoughts
Hurricane Heartbreak for Oil Bulls
We take a closer look at the US oil supply story today after a $2 whipsaw on crude prices as Hurricane Joakim approaches New York. The Canadian dollar got a boost from crude and was the top performer while CHF lagged. Australian retail sales are next.
Forecasts showing Joakim headed towards New York harbor early next week boosted crude early in the day and then new forecasts showing it moving further North reversed the trade. The oil market has a history of kneejerk reactions to temporary supply disruptions from storms but they should be used as opportunities to sell because the dynamics of the US market have changed.
A decade ago, much more of US oil was imported via the Gulf of Mexico, which is always vulnerable to hurricanes. There is a heavy offshore drilling presence there as well. But two factors have made the US oil market far less vulnerable to what happens in the ocean. 1) The rise of Canadian oil exports 2) The explosion of US shale. Storms have virtually zero impact on that production so for the foreseeable future, Hurricane-driven spikes will be opportunities to sell. Premium subscribers will obtain a special pre-NFP edition of the Premium Video at about 21:00 EDT (02:200 BST) to go through selected strategies, existing and new trades.
Click To Enlarge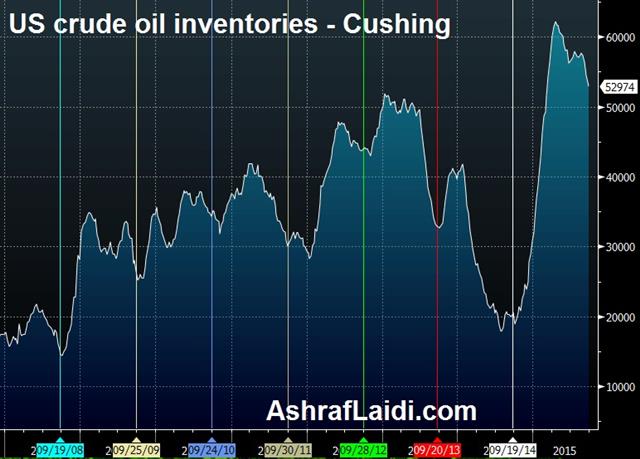 In the bigger picture, US oil storage supplies are virtually overflowing. This is the time of year that US oil supplies at the main hub in Cushing usually trough. As we head into October, refineries shut down for maintenance and to transition to more heating oil and less gasoline. But current supplies at Cushing exceed any pre-2015 point for the past 15 years.
Storage capacity will be maxed out in the coming months and crude will be dumped onto the market at any price. That has severe negative implications for the Canadian dollar and the latest bounce may prove an opportunity to sell.
In the short term, it's the Australian dollar in focus with retail sales at 0130 GMT and expected to rise 0.4%. Interestingly, October is seasonally the best month of the year for the Australian dollar and one of the worst for CAD.
Act
Exp
Prev
GMT
Retail Sales (AUG) (m/m)
0.4%
-0.1%
Oct 02 1:30
Latest IMTs