Intraday Market Thoughts
Japan Jawbone Put to the Test
Japan continued to touch on the intervention code on the weekend but yen strength late on Friday and growing yen speculative longs show a market without fear. Moves at the market open have been minimal. CFTC positioning data showed CAD positioning entering flat from negative.
Click To Enlarge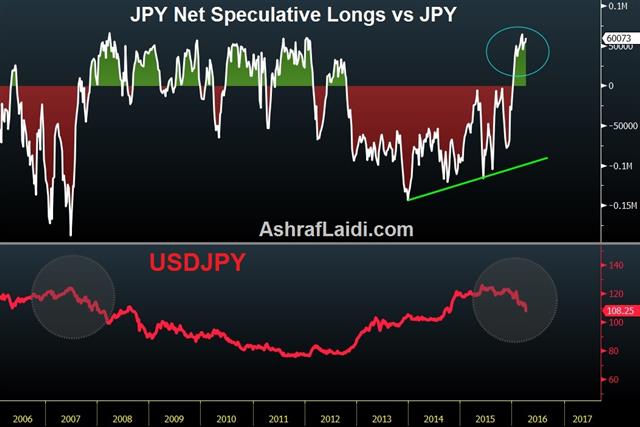 Japanese government spokesman Suga spoke with Reuters on the weekend and said pledges to avoid competitive devaluations don't mean Japan can't intervene. He called the moves one-sided and said Abe's comment last week that countries should avoid 'arbitrary intervention' was misunderstood.
USD/JPY opened the week unchanged at 108.02. What's concerning is that a rally in the pair in Friday's Tokyo session was wiped out late in New York in a 60 pip fall in the final five hours of trading. That marked six consecutive days of declines.
The market wants to test the MOF and find out where the true line in the sand is located. Ashraf wrote about the correlations in USD/JPY, bonds and equities on Friday.
Another focus this week is oil. WTI crude jumped $2.50 to $29.37 on Friday. The production freeze meeting is scheduled for Sunday in Doha but we expect leaks on what will happen before the weekend. The first headline to consider is a rise in official Iraq production to 4.55 mbpd from 4.46 mbpd in March along with a nearly 600k bpd rise in exports. That's a hefty supply dump and could cap WTI ahead of $40.
Commitments of Traders
Speculative net futures trader positions as of the close on Tuesday. Net short denoted by - long by +.
EUR -53K vs -64K prior JPY +60K vs +54K prior GBP -47K vs -40K prior CHF +6K vs +5K prior AUD +27K vs +23K prior CAD +0.1K vs -6K prior NZD +3K vs +2K prior
Latest IMTs