Intraday Market Thoughts
May Digs in on Brexit
Theresa May heads to staunchly pro-Brexit territory on Monday in a promise to deliver on the referendum vote but she faces a massive task ahead of Tuesday's vote. The yen and Swiss franc are the strongest since the start of Asia's Monday trade, but NZD, AUD and GBP are in the top 3 (in this order) performing currencies over the last 5 trading days while the USD lags.The US government shutdown extended to a record 22 days on Monday and CFTC FX positioning data is one of the releases that continues to be delayed. Two Premium trades were issued on Friday in the cryptospace with charts & notes.
Click To Enlarge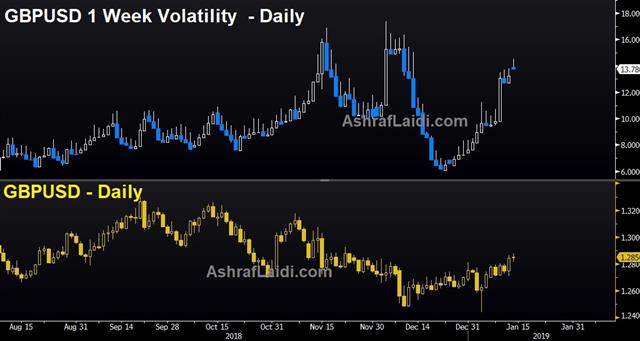 The pound hangs in the balance with parliamentarians set to vote on Brexit Tuesday. The odds of a win for Theresa May are remote. She's failed to find a middle ground that can gain enough support with her narrow parliamentary majority. She spoke in Stoke-on-Trent Monday in a last ditch effort to rally support, warning that if this deal isn't done, some in parliament may try to keep the UK in the EU indefinitely. A weekend report said some lawmakers may try to seize control of the legislative agenda from the government and try to extend the March 29 deadline.
Earlier today, the EU releaseed a letter reiterating that the Irish border backstop is only temporary.
Some Brexit Vote Scenarios
A defeat of Tuesday's vote by a significant margin
(more than 70-80 votes)
, would be difficult to envision a path forward and the pound could face an extended slump, raising questions for a No-Deal Brexit. A
closer result, especially within 30-40 votes
, could be GBP-positive as it would underscore that some voters only want to cast a token protest vote before falling into line. Others may need some smaller concessions. Traders should also be aware that the
3 likely consequences of rejection of tonight's vote:
1) Canada-style agreement; UK negotiates trade with all EU members similar to the one reached between Canada and the EU and took 8 years to negotiate and finalize.
2) 2nd referendum -- Also known as the people's vote -- is the ideal scenario for remainers (and GBP) would likely ask 3 questions (remain, accept current agreement or exit w/out deal). There's currently backing of 150 MPs for a 2nd referendum from all 4 main parties but more than 300 would be needed to secure majority.
3) Norway Plus agrmt -- Britain stays in customs union or single market -- but Brexiters oppose this as it requires UK to take orders from the EU & make budget payments to EU.
How the EU will handle the backstop issue in order to appease the DUP shall depend on the margin of Tuesday's vote.
Click To Enlarge
Latest IMTs