Intraday Market Thoughts
May to Speak Ahead of Vote Delay
Sterling tumbles 170 pips or 0.93% to $1.2605 on PM May's decision to delay Tuesday's crucial Brexit vote in Parliament. May will address Parliament in a speech at 15:30 GMT/London. The gravity of the situation is highlighted by the unwillingness of the DUP and EU to renegotiate the Brexit Withdrawal Agreement as well as the low popularity of the vote. Japanese GDP was revised lower in early-week trading. The USDCHF Premium short was closed for 140 pip gain.
Click To Enlarge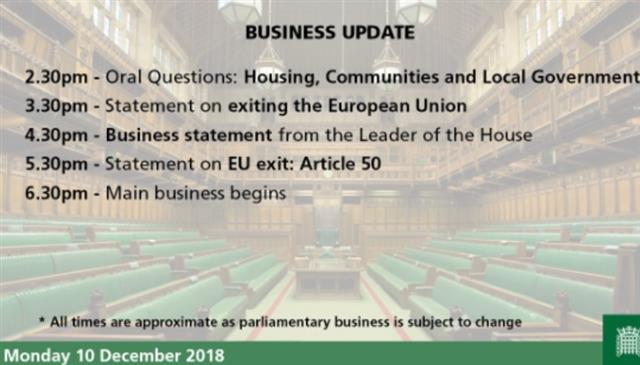 Watching Backstop Amendment
PM May was banking on the possibility of garnering sufficient support from several Labour MPs to counter the DUP's insistence to reject the vote.
Whether May will table new amendments to Parliament such as the Backstop (potentially keeping the entire UK in the Customs Union so as not to trigger an Irish border) and/or to return to Brussels for further modifications is one issue.
We expect May to suggest going to Brussels (again) for further negotiations, once she has (if) obtained new assurances from Brexiters.
A no-deal Brexit is the last resort. That kind of talk would roil markets and she would surely face a crisis of leadership.
Ultimately, there is no easy or obvious path for May or towards any kind of GBP-boosting Brexit deal. That's mostly priced in but until there's a concrete reason to buy GBP, it will continue to languish. The bigger picture is also a headwind for GBP. Risk aversion carried over from a dismal finish on Friday to more selling as markets opened for the week. Commodity currencies are under pressure and the Swiss franc is higher. S&P 500 futures have retreated back into the red at 2622 after an earlier trecovery into positive territory.
Non-farm payrolls were modestly weak and earnings were also a touch soft but the overwhelming concern is trade and slower global growth. The Fed may have played its best card with a pause signal to after a December hike but that boost has faded.
The dollar has so far maintained a bid but on acute risk aversion but it may come under pressure once sentiment stabilizes; especially against low yielders like CHF and JPY. Gold is also worth watching closely as it rallied above the October highs on Friday.
Early in the week, worries about global growth were sharpened by final Japanese Q3 GDP data. It showed a 0.6% q/q contraction, worst than 0.5% expected. Business spending was particularly soft.
Latest IMTs