Intraday Market Thoughts
Metals Spring to Life on Yields Breakdown
Metals steal the limelight on a combination of a breakdown in bond yields and falling USD, even as US retail sales came in within expectations when stripping volatile items. Commodity FX are also staging a breakout with the kiwi and AUssie leading the ascent. But JPY is also gaining amid
a sharp drop in US 10-yr yields, the biggest daily % drop since late Feb
(-5%).
Click To Enlarge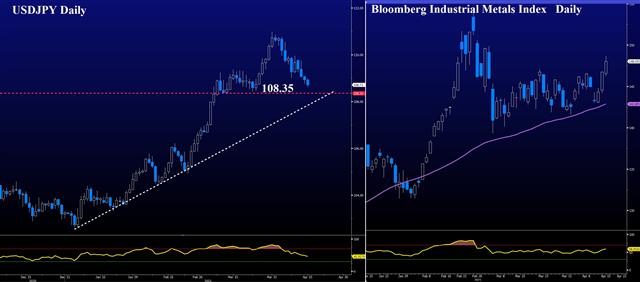 A series of sideways moves and some brewing head-and-shoulders patterns left market participants watching AUD/USD, CAD/JPY, copper and oil uneasy. Particularly concerning was the break lower in Chinese stocks in March.
One factor standing in the way of USD declines is EURUSD, which failes to break its 55-DMA at 1.1993 as did DXY respected its 55-DMA at 91.50. But the more crucial support stands at the 100-DMA of 91.00
Aside from the virus – which the market has consistently looked through for many months – it was tough to find a catalyst for a big risk-off move but the charts argued for prudence. At the same time, a period of consolidation after the large moves since November was warranted.
Given some of the breakouts Wednesday, we may have reached the end of that period. The anxiety about bonds is fading and enthusiasm about the reopening is building. The sense is that lockdowns in Europe and Canada will be the last ones as vaccine rollout increases dramatically in May/June.
That's a dynamic that we highlighted last week and the euro has since responded. It flirted with 1.20 on Wednesday before finishing just below.
The larger breaks were in commodities and commodity currencies. The kiwi led the move higher despite no real news from the RBNZ. USD/CAD is flirting with a break of 1.25 and that will be a spot to watch in the day ahead, especially if oil extends further above its three-week range.
Latest IMTs