Intraday Market Thoughts
Mnuchin Knocks Dollar, Supreme Decision
The US dollar slipped Monday and then sank late after the new Treasury Secretary warned about an excessively strong currency. The pound will be in focus on Tuesday as the Supreme Court delivers a verdict on Brexit. The yen was the top performer on Monday as risk aversion climbed. A new GBP trade has been issued ahead of Tuesday's UK Supreme Court decision. The video for Premium subscribers will be made available at the London Tuesday open.
Click To Enlarge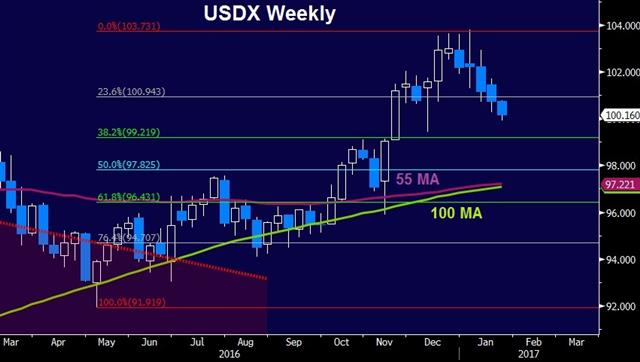 The US dollar unwound a large part of its gains from late last week as the market raised an eyebrow at some early comments about the administration. The market is clearly focused on finding out how the rhetoric will turn into action.
Trump met with CEOs and called for a huge tax cut but that only led to a momentary rise in USD/JPY to 114.00 from 113.50. It was erased in the following hour and the pair finished at 113.00 before falling once again early in Asian trading after Mnuchin wrote that the dollar was excessively strong and may be an economic negative in the short-term in a letter to Congress. It's premature to speculate on his next moves but the 'excessively strong' language and specifically mentioning the 'short-term' is the kind of language that leaders use when the want to intervene. USD/JPY slumped to 112.45 on the comment.
On that front, the White House wasn't directly asked about labelling China and FX manipulator in the first press briefing but they did say Trump intended to follow through on his Contract with the American Voter, which is where he made the pledge.
The near-term risks kin the FX are political but overseas. The UK Supreme Court is set to rule on whether parliament gets a say in triggering Article 50. The speculation is that they will force a vote but it's tough to say exactly what's priced in. Last week's Brexit speech didn't offer any kind of gamechanger for GBP but it sparked a rally that's extended 500 pips. That's certainly putting a squeeze on shorts and the Supreme Court could add to it.
Why the market might not be all that concerned is because parliament is expected to bow to the will of the referendum anyway. To ignore it would be a political minefield. If the Supreme Court does force a vote, watch for comments from May's government and expect relatively quick action.
Looking to Asia-Pacific trading, the main item on the agenda is the Nikkei Japanese PMI at 0030 GMT. The prior reading was 52.4.
Act
Exp
Prev
GMT
Flash Manufacturing PMI
54.6
54.3
Jan 24 14:45
Flash PMI Manufacturing
52.3
52.4
Jan 24 0:30
Latest IMTs