Intraday Market Thoughts
Countdown to US-China Trade Blows
Markets on Thursday reacted to reports sttaing the US could make a deal to avoid placing tariffs on European cars but the details aren't as rosy as the market moves suggest. NZD was the top performer on the day while JPY lagged. Japanese earnings data is due up next. All eyes turn to the US kicking off tariffs on China later tonight and the subsequent reaction from Beijing. There are 8 Premium trades currently open ahead of the trade announcements and US/Canada jobs reports.
Click To Enlarge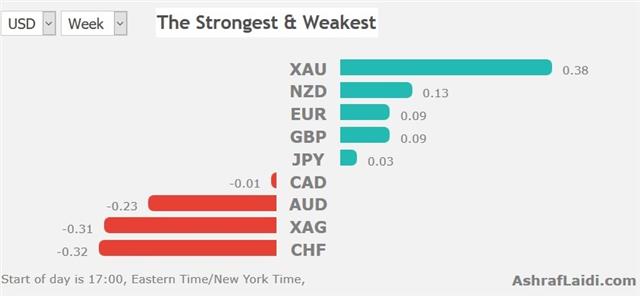 The German press first reported Wednesday that the US was prepared to relent on talk of European auto tariffs and as the talk made the rounds it underpinned a climb in the euro and global equities. We're afraid this is an overreaction. The story – which cites the US ambassador to Germany, suggests the US would suspend auto tariffs on European cars if Europe removed its barriers to US imports. Don't forget Wednesday's ECB story on the timing of the next rate hike also helped boost the euro.
The euro climbed 30 pips on the day and the S&P 500 rose nearly 1%, led by automakers.
Meanwhile, US tariffs on China are slated to go into effect on Friday and China has promised to retaliate. Trade worries are something the FOMC Minutes highlighted but the market was more tuned into commentary on a 'very strong' economy and continued gradual hikes. That helped to lift the US dollar.
Headline risks also dominated in the UK. BOE Governor Mark Carney brushed aside the recent poor data, blaming bad weather. Surely, he will have to finally pull the trigger on a rate hike on Aug 2 rather than performing yet-another embarrassing walk-back. That was reflected in a 50-pip rally in cable to 1.3275. At the same time, the risks of a one-and-done also mount as Brexit turmoil continued. The pound gave back all its gains on a report that Germany had dismissed the latest exit plan – one that May had to acrimoniously put together among warring factions of her own party.
We don't envy her job but we can't help but notice that cable has hung tough in the past week. We continue to watch for signs of a bottom. The Premium long in EURGBP deepens in the money.
All eyes will be on trade to close out the week but data releases include Japanese labor cash earnings, German industrial production and non-farm payrolls.
Act
Exp
Prev
GMT
Labor Cash Earnings (y/y)
0.9%
0.6%
Jul 06 0:00
Germany Industrial Production (m/m)
0.3%
-1.0%
Jul 06 6:00
Latest IMTs