Intraday Market Thoughts
No Inflation Panic From Powell
The Fed largely followed the script it spent months writing in the lead-up to
Wednesday's taper announcement and Powell said he will remain patient. The message was moderately dovish with risk trades rallying,
the kiwi leading the way and yen lagging. The OPEC+ meeting is up next. Below are Ashraf's notes to the WhatsApp Broadcast Group predicting the initial and subsequent market reaction to the Fed.
Click To Enlarge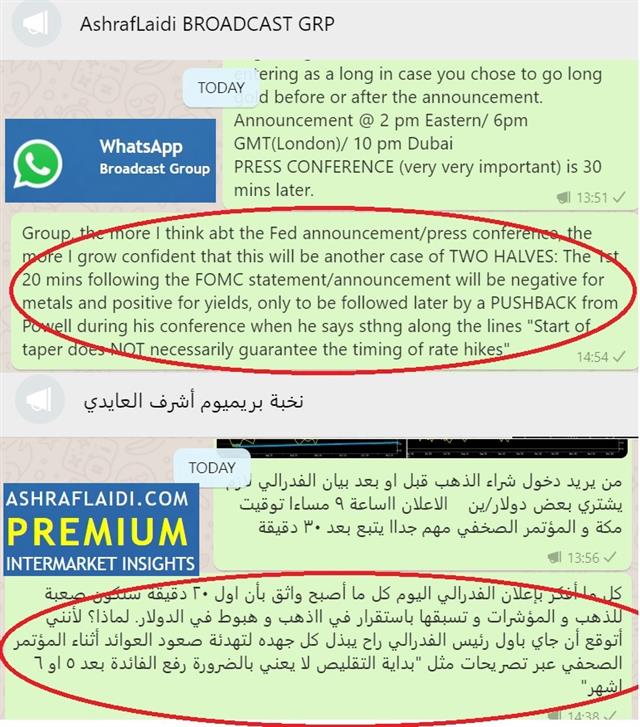 The market has grown increasingly concerned about inflation lately and that led to hawkish shifts at various central banks. In turn, market participants began to think we would get something similar from the Fed.
It didn't happen.
Instead, the FOMC stuck to the plan laid out in the Minutes to taper by $15 billion per month. They gave themselves some flexibility to adjust that pace after the first two months but it was little beyond a token gesture and Powell didn't elaborate.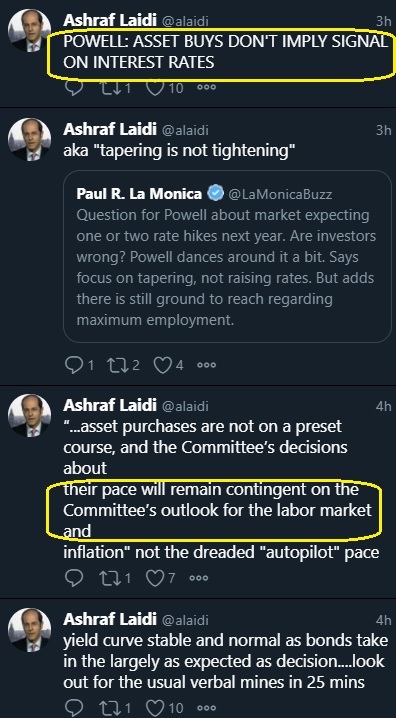 The statement continued to reference transitory inflation but added some humility saying it was 'expected' to moderate. In the press conference, Powell said they plan to be patient while watching data closely.
Add it all up and the dollar generally declined, though not by a large margin. Long-end rates moved 5-6 bps higher while short end rates were pinned. That steeper yield curve will likely please the Fed, though it's early.
Aside from the Fed, the most-meaningful news on the day was the ISM services index. It showed a booming services economy as the US emerged from the delta wave. The index rose to 66.7 compared to 62.0 expected. New order hit a record.
Evidence is beginning to mount of a strong fourth quarter but that continues to clash with bottlenecks, which Powell said are worsening overall.
Next up is the OPEC+ meeting, which is at noon UK time. There's a strong expectation for another 400k bpd but the intrigue will be at whether OPEC hints at a possible augmentation down the road. Beyond that, the US has made vague threats of action if OPEC doesn't pump more. We will have to wait on that front but news that dates have been set for renewed Iran nuclear talks highlights one path the White House could take to lower crude prices. Crude bulls took some off the table on Wednesday, leading to a nearly $4 decline.
Latest IMTs