Intraday Market Thoughts
No Love for the Dollar
The US dollar has been a dog for more than a year but the trade on Valentine's Day showed just how unloved it is. The dollar was a major laggard despite strong inflation data while commodity currencies soared. Australian jobs numbers are up next. A 2nd Aussie trade has been issued today to gear up for Aussie jobs figures due at 19:30 ET, 00:30 GMT/London, one of the trades is long AUD other is short AUD with the idea that both will move towards target over time based on the relationship between the cross currency relationship. Gold and silver were the stars of the day. Here is my reasoning 20 mins prior the release of US CPI & retail sales on why gold should rally regardless of the outcome.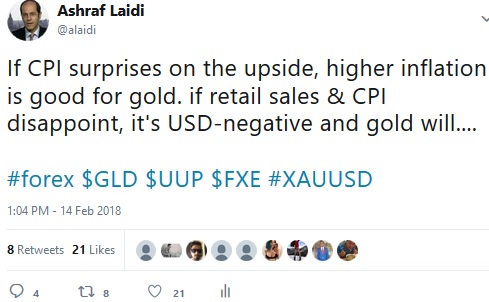 All eyes were on US inflation numbers Wednesday as worries about inflation derailing corporate earnings and growth continue to circulate. The worst happened as CPI rose 0.5% m/m compared to +0.3% expected. Core numbers were equally hot.
The dollar shot higher on the headlines in 50-80 pip moves across the board but the highs were within moments. From there the US dollar embarked on an epic reversal that included a rally in cable to 1.40 from 1.3800 and in the euro to 1.2455 from 1.2275.
Part of the story was a dismal retail sales report. It was down 0.3% compared to the +0.2% consensus. Holes were also poked in the high CPI number because of a handful of jumps in odd categories.
Stock markets also made a major turnaround with the S&P 500 finishing 36 points higher after falling 40 points in the aftermath of the CPI print. Despite that and despite a march in US 10-year yields to 2.91%, USD/JPY finished at a 15-month closing low, breaking a major support level.
On a technical basis alone, the dollar is looking increasingly dismal. Wednesday's trade was a clear sign of how the market has lost faith in the dollar. We will continue to watch for a shift in the dollar-selling paradigm as US 10-year yields rise to 3% and beyond but the price action Wednesday spoke volumes.
One trade that will be in particular focus in the hours ahead is AUD/USD with the Aussie employment report due out at 0030 GMT. The consensus estimate is for a +15.0K print following a +34.7K rise in December. A strong number would put AUD/USD back on a path to the January high of 0.8130.
Act
Exp
Prev
GMT
Employment Change
15.3K
34.7K
Feb 15 0:30
Latest IMTs