Intraday Market Thoughts
None Wants a Strong Currency
The RBA statement on Tuesday highlighted the conundrum at central banks – they're feeling better about growth and inflation but don't want a higher currency. Lowe did his best to salt in some jawboning and AUD/USD fell in the aftermath of the decision but the decline may have been less about his anti-AUD comments than the RBA's forecasts. NZD is falling fast in early Wednesday Asia after NZ Q2 employment contracted 0.2% q/q vs expectations of +0.8%.The chart belows shows all currencies are up vs the USD so far this year, with the euro the strongest, franc the weakest and silver the weakest metal, well underperforming gold.
Click To Enlarge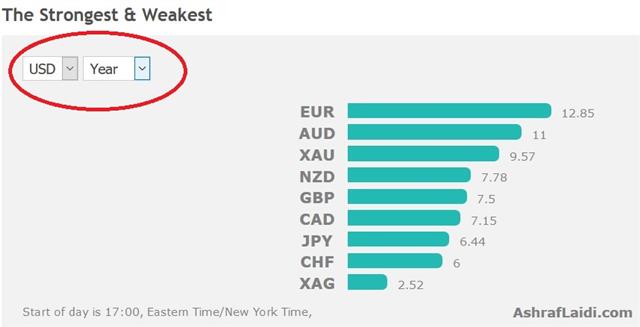 US data were neutral to negative. June core PCE price index held at 1.5%. July manufacturing ISM slipped to 56.3 from 57.8, with prices paid up to 62 from 55.0 and employment off to 55.2 from 57.2. June construction fell 1.3% vs expectations for a rise with net downward revisions, which means a negative contribution to the Q2 GDP revision.
The RBA statement said a stronger Australian dollar would restrain growth and inflation. It's not as strong as previous comments that explicitly warned of the perils of a high currency but it still helped to set a cap on the Aussie. It means that if AUD/USD rises further, rate hikes will be pushed out further, thus suggests the RBa's reaction function.
The other standout in the RBA statement is downcast commentary on wage inflation. Lowe made several references to low wage growth and said it will continue for a while yet.
A widening gulf between central banks may be growing -- Some have grown tepid on wage growth, despite all the traditional signs of a tighter job market. That's a reflection of a change in global dynamics, offshoring and automation. Other central banks believe it's only a matter of time until wages pick up, as the traditional rules kick in.
Since the same factors are in play everywhere, both sides can't be right. What strikes us is that forecasting low wage growth may be more effective in restraining FX than jawboning. The risk is that if you're wrong about wages, you might have an inflation problem. That's a risk worth taking or at the very least, it may mean more central banks take a wait-and-see approach.
Such a collective shift to the sidelines could have the greatest impact on FX, weighing particularly on currencies with the most tightening priced in. That said, we don't see signs of strong or shifting rhetoric on the wage inflation debate just yet.
Act
Exp
Prev
GMT
Eurozone Prelim Flash GDP (q/q) [P]
0.6%
0.6%
0.6%
Aug 01 9:00
Eurozone Spanish Unemployment Change
-66.5K
-98.3K
Aug 02 7:00
Latest IMTs