Intraday Market Thoughts
Panda Clouds the USD/JPY Picture
The lockstep correlation with Treasury yields is a driving factor in USD/JPY trading but the revelation that China is on the bond bid changes the equation. The yen was the top performer while the US dollar lagged. Australian GDP is up next.
Click To Enlarge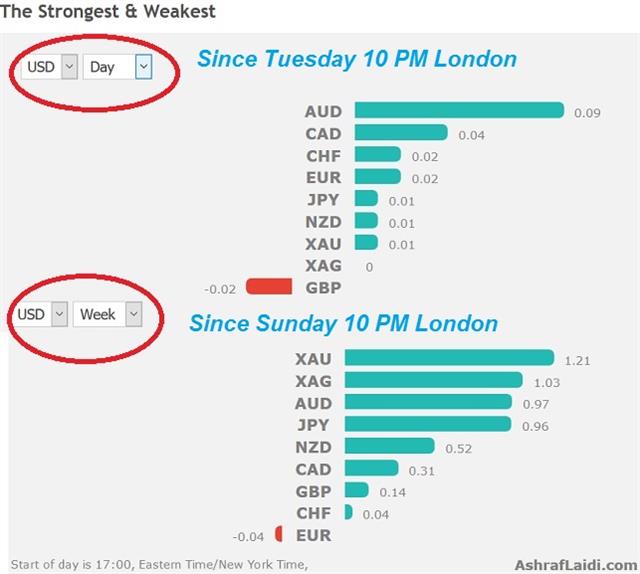 The bond market might not be all that it seems. US 10-year yields fell to the lowest since the US election night on Tuesday in what looks like a sign of risk aversion and waning hopes for Fed hikes.
Or maybe not
A Bloomberg story, citing sources, said that
China has been on the bid since March and may continue to buy. It's no coincidence that 10-year yields peaked at 2.62% in March and have tracked down to 2.14%.
The latest leg lower broke the April lows and threatens a return all the way to pre-election levels near 1.80%.
The tight correlation with USD/JPY would imply a corresponding drop back to 100.00.
The China news changes things. It's a sign that 10-year yields are more a reflection of what China reserve managers want to hold, rather than a view of market participants on the economy.
Regardless of who is buying bonds, yield differentials will be important for USD/JPY. But they're not the whole story and the correlation shouldn't be the whole story for USD/JPY either. For the near term, the technicals may dominate as the April low of 108.13 comes into view.
Up next is Q1 Australian GDP. The RBA yesterday brushed off a weak quarter and that helped AUD/USD rise to a one-month high above 0.7500 but the market wants to see just how bad the quarter was. The consensus is for +0.3% q/q growth but some estimates are in negative territory.
Act
Exp
Prev
GMT
GDP (q/q)
0.2%
1.1%
Jun 07 1:30
Latest IMTs