Intraday Market Thoughts
Powell's Puzzle
The US dollar loses grip on the main currencies, while the yen descends in prolonged selling as gold falls below key support levels. Fed chair Powell reiterated it will only be a matter of time until inflation picks up but the data highlighted that it may take some time. GBP recovers from the day's lows even as Trump said there would be no trade deal with the UK if a soft Brexit was pursued. Yen extends losses despite yields' decline and CADJPY was stopped out.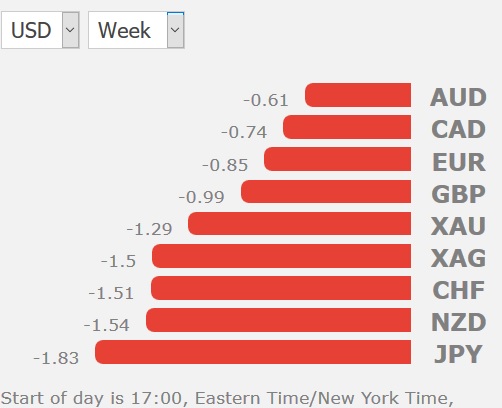 Thursday's US CPI report stalled the US dollar's advance. Prices rose 0.1% m/m compared to 0.2% expected leading to a 30 pip dip across the board in the dollar. In year-over-year terms, prices rose 2.9% to match expectations.
Notably, yearly rise may be the high-water mark for the months ahead because some one-off items are now rolling off. In the bigger picture, the Fed's Powell talked about the puzzle of inflation. He said the Fed doesn't understand why it's failed to pick up despite a tight labor market. But consider this, year-over-year inflation has rarely risen above 4% in the past 25 years and every instance was largely because of a jump in energy prices. Core inflation hasn't touched above 3% since 1996.
The early 1990s were when globalization truly took hold. Since then, no developed market has experienced runaway inflation. Perhaps Powell is right that wage inflation is about to pick up but one must consider if that doesn't happen because the global marketplace allows companies to offshore high wage jobs and import goods at deflated prices. If so, that would imply a lower terminal rate for all the central banks and argue for keeping rates near the floor while making the case for equities and risk assets even stronger.
More clues on inflation will be obtained next week when Powell delivers the semi-annual Monetary Policy Report to Congress on July 17-18.
Latest IMTs