Intraday Market Thoughts
Stalemate a Win for USD Bulls
Moves on the day were modest but there were some positive signs for the US dollar. The loonie was tops on the day while the Swiss franc lagged but total moves in the majors were less than 30 pips against the US dollar. Chinese retail sales and industrial production data are due later.
Click To Enlarge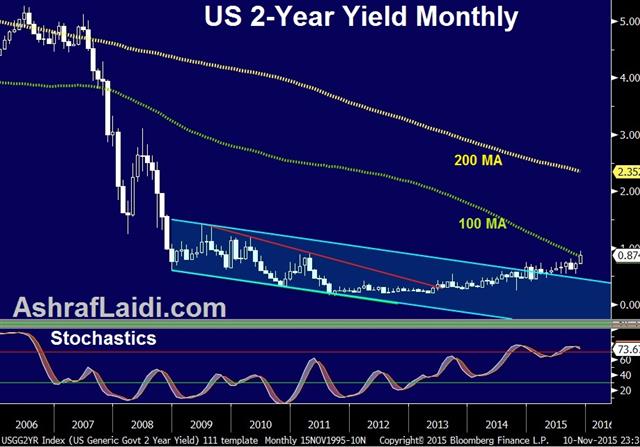 There were no significant directional moves on Tuesday but one thing stood out: iIn US trading alone, AUD/USD, USD/CAD and USD/JPY all hit daily session highs and session lows. Yet none of them extended on breaks.
The lack of follow-through speaks to a lack of conviction at the moment and that's not a big surprise given the magnitude of recent US dollar moves. Most impressive is that dollar retracements failed to gather any momentum. Cable made a quick 35-pip spike to 1.5140 at the start of US trading but was quickly beaten back down even though that's only a tiny retracement in relation to last week's decline. GBP & FTSE traders await Wednesday's UK jobs and earnings figures, covered in detail in Ashraf's Premium Video yesterday.
The Australian dollar also touched a one-month low on falling copper while EUR/USD hit the worst level since April.
Overall, the stability of the greenback is a positive sign for the dollar bulls as the refuel for another run. If there is a spot to watch in case of a retracement, it's the bond market. The dollar came under some pressure after a slightly lower-than-expected yield at a Treasury auction for the second consecutive day. Yields managed to rebound to unchanged after declining early but it's an area we'll watch closely.
The economic data we're watching in the hours ahead is from China. Retail sales and industrial production are due at 0530 GMT. Sales are expected up 10.9% y/y in what's a bright spot in the economy as China moves towards a consumer-driven model. Industrial production is expected up 5.8% y/y.
Act
Exp
Prev
GMT
BRC Retail Sales Monitor - All (OCT) (y/y)
-0.2%
2.6%
Nov 10 0:01
Retail Sales (OCT) (y/y)
10.9%
10.9%
Nov 11 5:30
Industrial Production (OCT) (y/y)
5.8%
5.7%
Nov 11 5:30
BOE's Governor Carney speech
Nov 11 10:30
Latest IMTs