Intraday Market Thoughts
Sunny Days in Australia?
Sometimes the people who are most successful are the quiet ones who do the work in the background and don't cause a stir. The market can be the same way. The Premium Insights are considering opening a GBP trade ahead of Tuesday's speech by PM Theresa May due at 11:45 GMT.
Click To Enlarge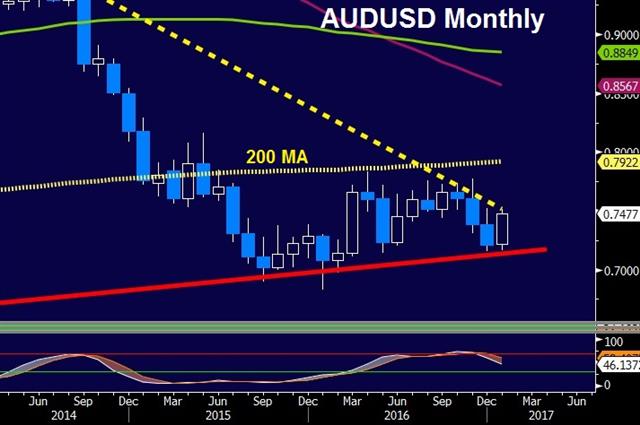 The stories in 2017 so far have been Trump, bonds, oil, jobs and US dollar weakness. One spot where there has been almost no news or attention is the Australian dollar and yet it's the best performer so far this year, gaining more than 4% against the US dollar.
Why?
Australia has certainly been quiet. It's Summer holiday season there and that's made for a quiet calendar, no politics and minimal RBA-speak.
Another reason is the level of risk aversion in the market. AUD tends to do best when risk appetite is high but there is also a sweetspot of moderate-to-high uncertainty where, far-away Australia acts as an island of stability. If it were to rise any further the risk aversion would kick in and AUD would sell off.
The final reason is that the Australian dollar selling in the latter-half of December was unjustified. It was caught up in year-end flows and that's slowly been unwinding. The result is gains in 8 of the 10 trading days so far this year.
The domestic calendar will remain quiet in the week ahead so for a sense of whether the gains can last, we look to the AUD/USD chart. With the pair closing at 0.7500 on Friday it's right up against an inflection point. Last week's high was 0.7519 and the December high was 0.7525. If those levels can break then the pair could add another 250 pips. If it holds, the it's likely a sign of higher risk aversion or a renewed focus on fundamentals.
But do watch out from the deteriorating technicals in the Shanghai Composite and this week's Aussie jobs figures.
Commitments of Traders
Speculative net futures trader positions as of the close on Tuesday. Net short denoted by - long by +.
EUR -66K vs -70K prior JPY -80K vs -87K prior GBP -66K vs -65K prior CHF -14K vs -13K prior AUD -4K vs -2K prior CAD -8K vs -4K prior NZD -14K vs -11K prior
The moves this week in the CFTC report were modest in what might be a sign of resilience for US dollar bulls. Notably, the euro net short is now at the lowest since June. That signals a bit of extra ammunition for a retest of the 2016 lows.
Act
Exp
Prev
GMT
FOMC's Dudley Speaks
Jan 17 13:45
FOMC's Brainard Speaks
Jan 17 15:00
Treasury Sec Lew Speaks
Jan 17 15:00
Latest IMTs