Intraday Market Thoughts
Super Thursday for GBP Shorts
BoE governor Carney's Guy Fawkes impersonation stormed FX markets and gilt yields with a broadly dovish inflation report, slashing growth and inflation beyond what many had expected. Carney also took a page from the Fed book when he highlighted the source of disinflationary threat was "almost exclusively" from emerging markets.
Click To Enlarge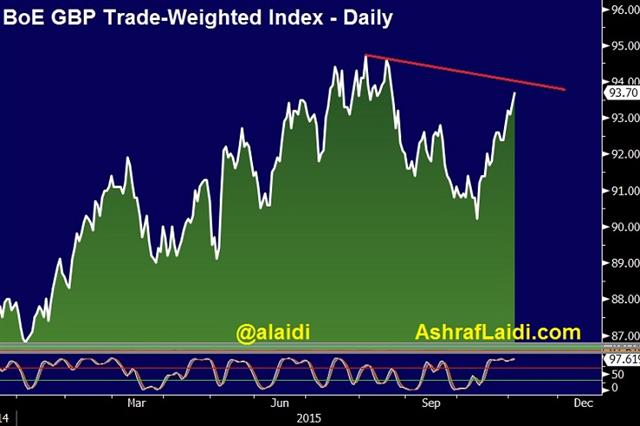 The standout downgrade was of Q4 inflation, brought down to 0.1% from 0.4% in the August report. Q4 2016 inflation was lowered to 1.2% from 1.6% and Q4 2017 CPI revised to 2.1% from 2.2%. The deepening decline of the inflation view was largely attributed to the pass-through effect from the strong pound. The BoE also downgraded 2016 GDP growth forecast to 2.5% from 2.6% in August, and 2017 GDP growth lowered to 2.6% from 2.5%.
Although several economists have made a meal out of the phraseology surrounding the way the BoE views its inflation risks within the 3-year horizon, we find it futile for to delve on what the central bank thinks 3 years out when forecasts are persistently changed-- and most of all, when the medium term matters most for currencies and gilts.
Our Premium subscribers had already two short trades involving GBP crosses, and a third had been issued after the BoE report.
Latest IMTs