Intraday Market Thoughts
Clashing Narratives
A wild start for the week began in early Asia trading with news of fresh restrictions in the UK and resulting lockdowns in Europe,
triggering sharp selloffs in oil and copper, extending to European and US indices
as well as a jump in the greenback.
But it did not last long
. Sterling tumbled to start the week as a more-infectious strain of the virus in Britain causes alarm. The unravelling was also driven by clashing narratives
(US stimulus deal, broadening lockdowns and travel restrictions & a new Covid-19 variant)
That news compounded a lack of visible progress on a Brexit deal, wiping out half of last week's cable gain. CFTC positioning data showed dollar shorts trimmed slightly even as USD continued to tumble last week. The
charts below highlight the swings in gold and EURUSD before both markets
ended little changed, in a
vocal manifestation of indecision from traders
. Note
those support levels also held up during the swings of FOMC Wednesday.
A new Premium trade will be issued ahead of the US cash close.
Click To Enlarge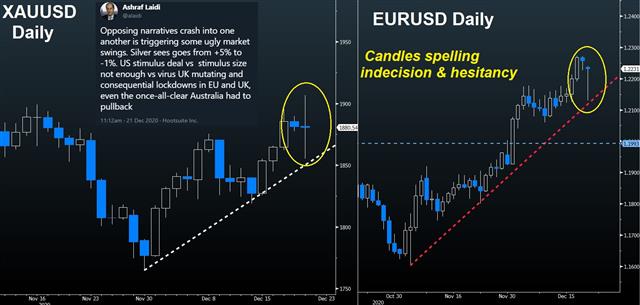 The horror film-like qualities of 2020 continued on the weekend as concern about a more-easily transmissible strain of covid-19 circulating in the UK led to some drastic actions.
A surge of cases and the new strain led to London and the southeast of England going into a Tier 4 lockdown, meaning that all non-essential shots including hairdressers and leisure most close. A new stay-at-home message was also introduced, urging people to work from home and mixing households is banned. Overnight travel of any kind is banned.
The Telegraph reports that that Tier 4 restrictions in the UK could last four months.
A multitude of countries have now banned all travel to the UK but there were confirmed cases of the new variant in continental Europe two weeks ago; raising the possibility that this winter will be even worse than feared.
The Brexit front also did no favours to sterling. Talks will continue but there was no breakthrough and time is running short. Fishing remains the main snag.
CFTC Commitments of Traders
Speculative net futures trader positions as of the close on Tuesday. Net short denoted by - long by +.EUR +142K vs +156K prior GBP +4K vs -6K prior JPY +44K vs +48K prior CHF +9K vs +10K prior CAD -16K vs -21K prior AUD -9K vs -10K prior NZD +14K vs +11K prior
Latest IMTs