Intraday Market Thoughts
The New BOJ Challenge
The BOJ has its head above water on inflation but it's still drowning in other questions and that will be reflected in today's decision. The yen was the top performer while the pound lagged. Japanese household spending and industrial production are the last two major releases before today's BOJ decision. There is 1 USDJPY trade already in progress
Click To Enlarge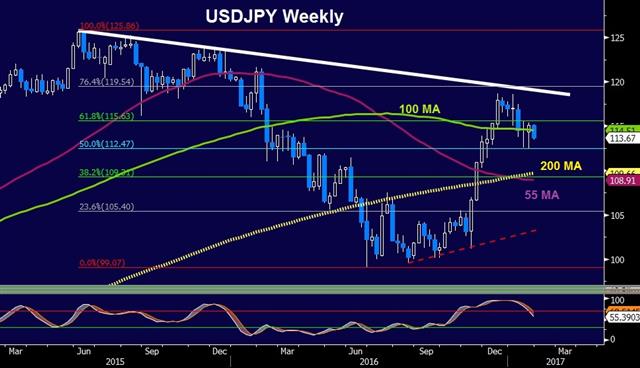 The BoJ finally got some good news last week with year-over-year inflation rising above zero. The market has taken that along with the sudden improvement in sentiment and extrapolated it to indicate a near-term change in policy.
Today's announcement – which will come at some time between 0230 GMT and 0330 GMT – is all about BOJ forecasts. If Kuroda bumps up the outlook or hints that he's going to do so then the yen will extend Monday's 150-pip jump.
But it would likely be a mistake. The BOJ has been fighting deflation forever and now that they finally have a glimpse of success, any tilt in policy would threaten to unwind it. As unnamed BOJ officials who spoke to the WSJ said in a weekend report, the ensuing yen strength would quickly unwind the inflation progress.
At the same time, the BOJ is wary of Trump. With a large US trade surplus and many competing industries, Japan is a likely target of the President. In addition, the market is trying to figure out administration.
As we have been warning, the inability to roll out policies smoothly and coherently is a main risk at the moment and it's beginning to materialize.
In the lead-up to the BOJ decision, watch for final signals from the data. The household spending report showed a 0.3% contraction in year-over-year spending compared to -0.9% expected and that adds a slight positive risk to the BOJ. The industrial production report is expected to show a 3.0% y/y improvement; it's due at 2350 GMT.
Act
Exp
Prev
GMT
Overall Household Spending (y/y)
-0.3%
-0.8%
-1.5%
Jan 30 23:30
Industrial Production (m/m) [P]
0.5%
0.4%
1.5%
Jan 30 23:50
Latest IMTs