Intraday Market Thoughts
The Summer Sizzle is Coming
Just how strong will the economy be in 2021? Resilient through recent lockdowns combined with reopening exuberance are leading to upgrade after upgrade.
EURUSD
had its
first test of the December trendline resistance after breaking above its 100-DMA
, while
DXY also
broke
below
its 100 DMA, eyeing its own Dec trendline support. Expect
gold
to retest and break above its own 100-DMA this week. It will be a busy week with the
Fed, Biden's tax plan and more earnings
. The CFTC positioning data showed renewed bets on the Canadian dollar. Both EUR and CAD have done well. Here's a monthly chart of EURCAD. What do you think? US Drable goods orders. are next.
Click To Enlarge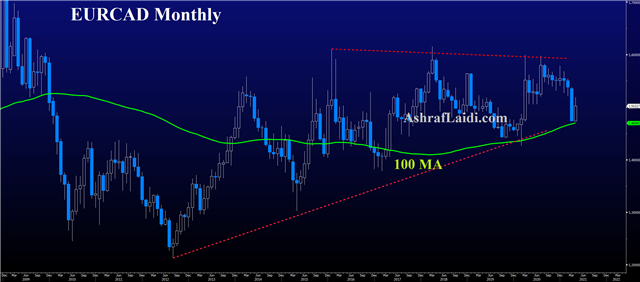 There's no post-pandemic playbook. Economists were in uncharted territory heading into the pandemic and will be sailing blind coming out. Almost every step of the way so far, the returns are better than anticipated.
As the US reopens, the latest signs are impressive. Survey data is the most-forward looking and on Friday the Markit services PMI was at a record high (since 2008) at 63.1 compared to 61.5 expected. It was the same thing in similar surveys elsewhere and nearly all of them cited strong orders and soaring input prices.
Some of the anecdotal reports are so glowing, they were hard to believe at first but now they're widespread.
"Restaurants spent much of the past year trying to win back customers. Now, they are struggling to win back employees," the WSJ wrote on Sunday.
A similar boom is brewing in the UK, which is just behind the US in vaccines. The BOE's Broadbent highlighted "very rapid " growth on the weekend. Forecasts are nearing +7% for the year.
The week ahead is very heavy on economic data and earnings, with the FOMC decision as a highlight. It starts with the US durable goods orders report for March at 1230 GMT.
CFTC Commitments of Traders
Speculative net futures trader positions as of the close on Tuesday. Net short denoted by - long by +.
EUR +81K vs +67K prior
GBP +25K vs +26K prior
JPY -60K vs -58K prior
CHF +2K vs +1K prior
CAD +13K vs +2K prior
AUD -2K vs +4K prior
NZD +4K vs +3K prior
What's fascinating about the rise in CAD longs is that it came on Tuesday, ahead of the BOC decision
. The loonie fell hard in the day ahead of the decision but
someone was clearly wading in on the other side and was quickly proven right
. Expect CAD positioning to stretch further in next week's report.
Latest IMTs