Intraday Market Thoughts
Three Things That Could Steal the Show
Traders are strapped in for a jam packed week of economic news and data headlined by the ECB decision and non-farm payrolls. Monday's IMF decision on China's SDR future and the OPEC meeting also rank among the headlines of the week. The US dollar was the top performer once again last week while the Swiss franc lagged on speculation the SNB could react to a move from Draghi. The China SDR decision is up first in a busy week but we shift our gaze to some of the themes and events that could drive bigger market moves than the ECB/Fed. There are 5 Premium trades currently open, 3 of which are in GBP pairs.
Click To Enlarge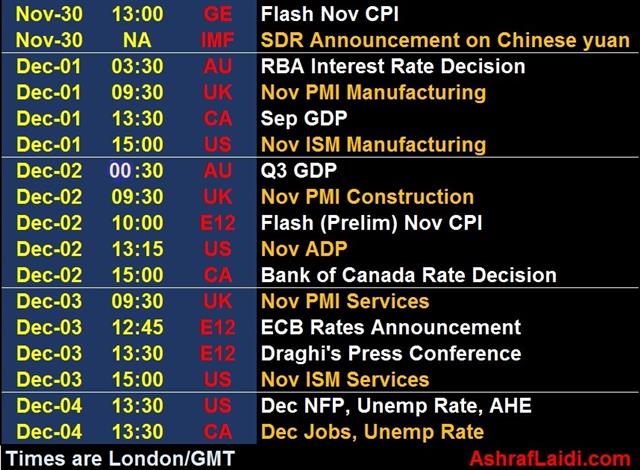 Lost in the US holiday late last week was a 5.5% fall in the Shanghai Composite on Friday. A crackdown on brokerages and soft industrial profits helped to spark sales. There is also talk that Beijing has pulled its campaign to support stocks.Market moves in China can get disorderly very quickly. At any point in December, foreign investors could begin withdrawing investment because of Fed hike speculation, year end or fears about the economy. Worries about China materialize quickly and hit like a tsunami. We stay on guard.
Murmurs out of Switzerland have also caught our attention. A weekend report from the local press quoted officials from the tourism lobby pushing for a 1.15 EUR/CHF cap. Others point to comments from SNB leader Jordan last week who said negative rates "have proved very useful" as a signal he may cut the deposit rate further below -0.75%. The market has sniffed out some kind of plot as USD/CHF hit a six-year high on Friday.
The final spot to watch is oil. OPEC meets on Friday but all indications are there will be no change in quotas. We'd expect that to be fully priced into the market but it was a similar situation a year ago at the OPEC meeting and when they didn't provide support WTI crude fell to $45 from $75. Oil is precipitously close to support at $38-39 as we start the week and a breakdown could get ugly very quickly.
In the immediate term, watch for German retail sales and inflation data on Monday along with Chicago Fed. But first up is Kuroda, who hasn't given any indications lately that he's prepared to cut rates or that he wants a weaker yen. Expect more of the same when he speaks at 0100 GMT. The China SDR decision has no set time but we don't expect it to have market implications. It's been widely tipped that it will be included in the IMF basket.
Act
Exp
Prev
GMT
Germany Retail Sales (m/m)
0%
Nov 30 7:00
Germany Retail Sales (y/y)
3.4%
Nov 30 7:00
Latest IMTs