Intraday Market Thoughts
Trump's Optimism Boosts USD
Trump's speech faced a high bar in the way of the US dollar rally preceding the address as a result of several Fed comments and, indeed, Trump managed to lift the USD back towards those levels as the speech confirmed the $1 trillion in infrastructure spending, while staying away from attacking US trading partners and the media. It was the most optimistic speech since the start of the Trump presidency. Odds of March Fed hike rose to 52%. Gold is set to post its 3rd straight daily decline, which would be for the 2nd time this year. There are currenty 2 USD longs in the Premium trades.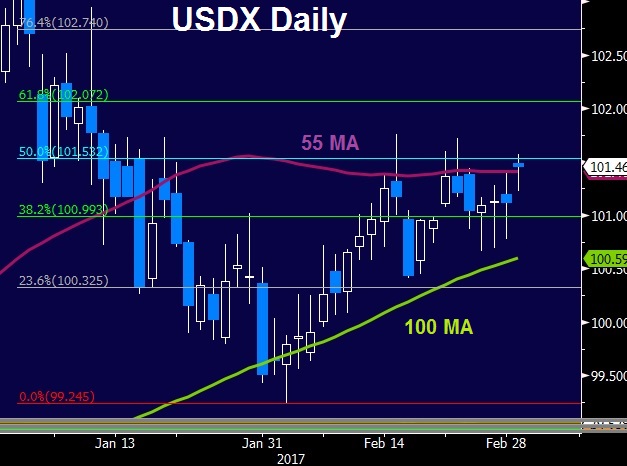 The Fed went on what looked like a coordinated offensive campaign to boost the odds of a March 15 rate hike Tuesday. The Fed's Dudley inserted himself into a jam-packed FOMC schedule this week by making an appearance on CNN. He used it to say the case for hiking now has become a lot more compelling. The market reaction was instantaneous bond market selling and USD/JPY buying.
What made it seemed coordinated was a comment from the Fed's Williams shortly before. He said a hike deserved 'serious consideration' at the meeting in two weeks. That's an escalation from his stance at the start of the month where he said it needed consideration.
Even before the comments, the odds of a hike were on the rise. From 37% on Thursday, to above 47% at the start of the day and above 50% by the end of the day. There is far more Fedspeak scheduled this week but Dudley is a major player and it's tough to imagine Yellen will walk back his comments unless non-farm payrolls miss badly.
In terms of economic data, Tuesday was mixed. US Q4 GDP was revised down to 1.9% from 2.1% but consumer confidence beat expectations and hit the best levels since 2001. The Fed is increasingly of the belief that the economy is recovered and that rates should be closer to a more-normal level.
In other news, Aussie regained its luster after Q4 GDP rose 1.1% q/q vs expectations of 0.8% q/q. Chinese manufacturing PMI rose to 51.6 vs the expected 51.2.
Act
Exp
Prev
GMT
FOMC's Kaplan Speaks
Mar 01 18:00
FOMC's Brainard Speaks
Mar 01 23:00
Chicago PMI
57.4
53.2
50.3
Feb 28 14:45
Final Manufacturing PMI [F]
54.4
54.3
Mar 01 14:45
CB Consumer Confidence
114.8
111.3
111.6
Feb 28 15:00
Latest IMTs