Intraday Market Thoughts
USD Bulls Awake, Aussie Jobs next
The US dollar was hit with another wave of weak news and data on Wednesday and yet it was the top performing currency. The Swiss franc and euro were laggards and Canadian dollar reversed after the BOC. The Australian jobs report is due next. In the Premium Insights, the trades in the Dow & FTSE were bpth stopped out. The latest Premium video on FX, gold, oil and indices trades is included blow.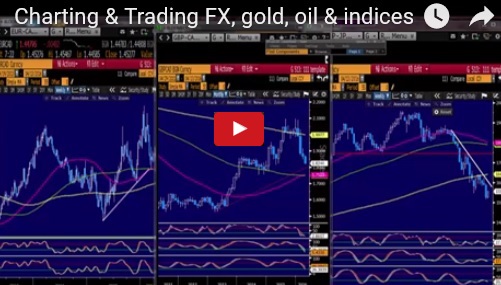 Trades aren't made in the rearview mirror. Economic data looks backwards in time and there was more evidence Wednesday that the first three months of the year were weak in the United States. Retail sales fell 0.3% in March compared to +0.1% expected. The control group was at +0.1% versus the +0.4% consensus.
The Fed expects the better jobs picture to filter through to more spending but the evidence is lacking. The Beige Book talked about better manufacturing, spending and overall activity. Yet the data has shown the first quarter was flat despite the warmest winter in a generation. Inventories are the highest they've been since crisis. The manufacturing sector has bled jobs the past two months.
It's tough to find a reason to buy the US dollar in those headlines but it shrugged off the concerns in the second day of broad gains. Perhaps it's a bounce but you can make an argument that this is about as bad as it will get. Jobs numbers have been healthy and sentiment is improving so some growth is coming. The Fed may also try to reclaim some forecast credibility by forcing another rate hike.
It's early days but those are these we will be looking for in the days ahead.
In the meantime, we're looking forward to Australian jobs data at 0130 GMT. The Australian dollar retraced Wednesday to 0.7660 but is up 1.4% this week on better commodity prices. The 18% y/y rise in Chinese exports allayed some foreign fears and another strong jobs report could sooth some domestic jitters. The consensus is for 17K new jobs and a rise in unemployment to 5.9% from 5.8%.
Act
Exp
Prev
GMT
Employment Change s.a. (MAR)
20.0K
0.3K
Apr 14 1:30
Fulltime employment (MAR)
15.9K
Apr 14 1:30
Part-time employment (MAR)
-15.6K
Apr 14 1:30
Unemployment Rate s.a. (MAR)
5.9%
5.8%
Apr 14 1:30
Latest IMTs