Intraday Market Thoughts
USD: Data vs Trade
The US dollar continued to rally on trade tensions, shrugging somewhat disappointing US economic data. The Fed wants to see wage inflation but it wasn't as strong as hoped in Friday's jobs report and USD/JPY dipped. US core PCE, ISM and NFP have all disappointed but it so far appears as a softening in momentum rather than a worrying drop. CFTC positioning data showed that the US dollar remains the heavy favorite. The GBPUSD long trade was stopped out as sterling was damaged by renewed fears of a "no deal" Brexit outcome.
Click To Enlarge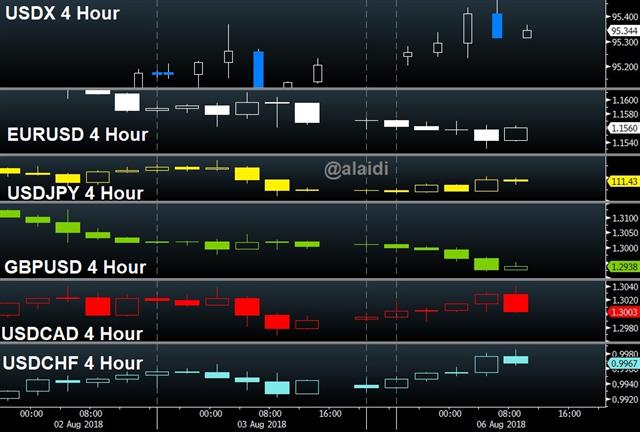 Non-farm payrolls were a shade disappointing and USD/JPY fell to 111.20 from 111.60 in the aftermath. The headline was 157K compared to 193K but an upward revision balanced out the miss. Meanwhile, average hourly earnings rose 0.3% to match the consensus but the prior was revised 0.1 pp lower.
The refrain that 'inflation is coming' is the 'sky is falling' warning of the past decade and policymakers finally think it's nearby yet not present in the data. The Fed may just keep pushing it further down the road as it hikes rates, but around year-end it may have to wrestle with the question: Why are we hiking when there is no inflation?
In other moves, Canadian trade data showed a jump in exports despite steel tariffs. The tariffs themselves hit steel exports by 37% but the overall trade balance was better than expected and USD/CAD fell below 1.30. Energy was part of the story but exports may have also been accelerated on tariff fears. Loonie traders get to see CAD jobs data this Friday.
CFTC Commitments of Traders
Speculative net futures trader positions as of the close on Tuesday. Net short denoted by - long by +.
EUR +23K vs +29K prior GBP -47K vs -47K prior JPY -68K vs -74K prior CHF -44K vs -46K prior CAD -32K vs -44K prior AUD -51K vs -45K prior
Australian dollar shorts are now at their most extreme since late 2015. We can scarcely remember a time when there was such worsening AUD enthusiasm, but it's held its ground in seven-weeks of sideways trading so maybe that's a sign that the sellers are exhausted. A thing we talk about often is watching the places where few people are paying attention and that's the case in AUD right now. The decline in the Chinese currency and the Shanghai Composite index is a good place to start explaining Aussie's sell-off.
Latest IMTs