Intraday Market Thoughts
What Would it Take?
What's the breaking point for the Fed? We're clearly not yet at the point where the Fed signals a pause but another weak data point makes it a question worth considering. The Australian dollar was the top performer while the yen lagged. The Asia-Pacific calendar is quiet.
Click To Enlarge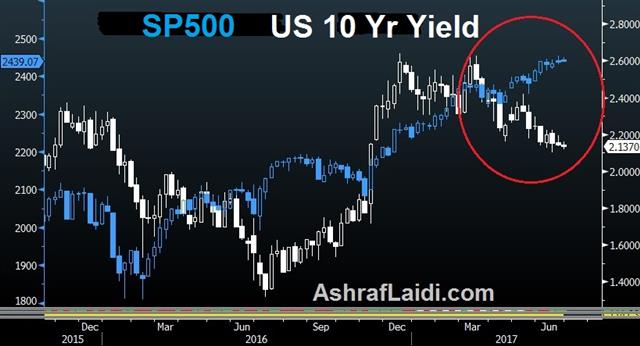 The US dollar slid Monday after May durable goods orders fell 1.1% compared to -0.6% expected. Core orders, which exclude defense and aircraft, fell 0.2% compared to +0.3% forecast.The miss is part of a series of poor data points that stretch back months. The Citi US economic surprise index, which measures if numbers are beating or missing the consensus, is at rock-bottom levels.
At the start of the year almost everyone at the Fed and on Wall St was on board with a strong year but this week marks mid-year and it's looking like 2% growth may be a struggle. The Fed has been quick to brush aside soft growth and inflation. For months they pointed to upbeat soft data but there are no signs it's filtering into the hard numbers.
Some signals are even deteriorating. J.D. Power was out with a forecast Monday saying the June autosales pace is going to be the slowest in five years.
The market is stuck in a position where it can't ignore the hawkish signals from the Fed but can't buy the dollar against a headwind of bad data. The pendulum is swinging against the Fed at the moment and cracks are appearing. The FOMC is grasping for answers as patience wanes.
The week is light on US economic data but on Friday the PCE report is due and that could prove to be a turning point. The Fed is stubborn but not deaf. Weak inflation and personal spending could be the beginning of the end of the strong hawkish stance. The ISM and non-farm reports the following week could be the end of the end.
Act
Exp
Prev
GMT
Core Durable Goods Orders (m/m)
0.1%
0.4%
-0.5%
Jun 26 12:30
Latest IMTs