Intraday Market Thoughts
Why the BOJ could Wait
A hint on Bank of Japan thinking added more intrigue to this week's full slate of central bank decisions. Markets were contained on the day as the yen rebounded and was the top performer; a slide in oil prices made CAD the laggard. Australia and New Zealand return from holidays but the Asia-Pacific calendar is quiet. There are no JPY trades in the Premium trades but Tuesday's upcoming video for subscribers will hint at whether new trades will open ahead of the Fed, RBNZ and BoJ meetings. There are currently 6 Premium trades in progress.
Click To Enlarge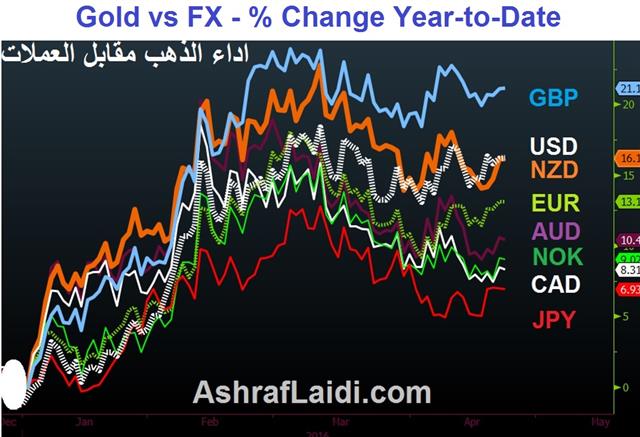 A story flew under the radar on Monday was hint from Etsuro Honda that the BOJ may not ease on Thursday. He is a top adviser to the Prime Minister and sometimes called the architect of Abenomics. He said it would be an 'acceptable judgement' for the BOJ to wait before easing further. Aside from his insider status, that comment carries special weight because he correctly predicted the surprise BOJ easing in January.
His reasoning is that further action may have more impact if it's announced alongside a sales tax delay and government stimulus. That's something that would be possible in June.
The BOJ may also wish to wait and see what the Fed decides to shape its FOMC statement. If Yellen opts to remove the 'accommodative' bias in the statement and puts a June hike on the table, then USD/JPY may rise without Kuroda's help.
The market is pricing in just a 20% chance of a hike in June. Those who don't see a hike will ultimately be proven correct but the Fed will want to maintain the option of hiking. In order to do that, they need to send a fairly strong signal about the potential for a rate hike. In the past, delicate musings along with well-timed comments from FOMC members would be enough but the market is no longer listening to hawkish Fedspeak so they may opt for something stronger in the statement and use rhetoric to walk back later, if necessary.
Economic data was light on the day. New home sales were at 511K compared to 520K expected but the release was ignored by markets. Look for better action from Tuesday's slate of durable goods orders, consumer confidence, the Markit services PMI and the Richmond Fed.
The Asia-Pacific calendar is empty but look for more active trading in AUD and NZD as traders return from a long weekend.
Latest IMTs