Intraday Market Thoughts
Why the House Health Care Vote Matters
The current version of Trump's healthcare plan will be dead-on-arrival in the Senate yet Thursday's vote in the House is a blockbuster. We explain why. The yen was the top performer on Wednesday while the Australian dollar lagged. A new Premium trade has been issued ahead of the House vote, backed by 4 technical reasons and 4 charts. 5 out of the 7 existing Premium trades are currently in the green.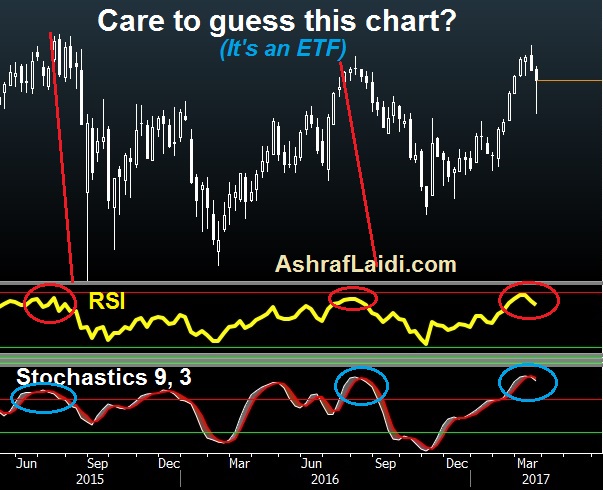 The risk aversion in markets stopped on Wednesday but a more-accurate description was that it was on pause. The market is trying to figure out if the House vote on Thursday on the bill to replace Obamacare will pass or fail.
The bill itself isn't so much what's at stake. The market is increasingly viewing it as a test of Republican leadership. It's a barometer on whether Paul Ryan and Donald Trump can whip the House into supporting its agenda.
So what's at stake isn't necessarily this bill. It's the tough fights on tax reform, infrastructure and regulation that are ahead. The mantra of 'repeal and replace' Obamacare was the one thing seemingly every Republican agreed upon but exactly how that would work is proving to be a problem.
A risk we see here is that the market is overstating the problem. This isn't a Republican vote on Trump, his leadership or team unity. It's a vote on a specific piece of legislation and some Congressmen want it changed.
In that sense, buying something like USD/JPY or equities could have limited downside risks. If it passes, it's all upside. If the vote fails or is postponed, there will be selling but Republicans will quickly regroup and move forward. Markets will recognize that sooner than some think.
Changing gears to central banking, the RBNZ held rates at 1.75%, as expected. The anti-NZD jawboning continued and the message was largely unchanged. One small shift was language saying inflation will return to target in the medium-term, rather than 'gradually'. NZD initially dipped but is back to pre-RBNZ levels.
The rest of the Asia-Pacific calendar is light but it will pick up later with UK retail sales and Yellen on the agenda.
Act
Exp
Prev
GMT
Retail Sales (m/m)
-0.3%
Mar 23 9:30
Latest IMTs