Hot-Charts
AUDJPY Clarifies the Hint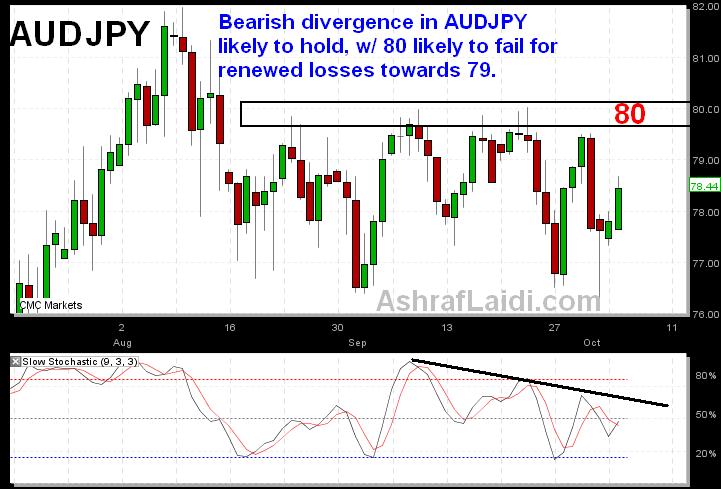 The recurring failure of AUDJPY to regain 80 since mid August reflects mostly yen strength and speculators relative comfort to maintain the AUDJPY carry trade rather than AUDJPY. RBA is expected to hold rates unchanged at 3.00% tonight, but could well open the door further open for a November/December rate hike, in which case may boost Aussie across the board in Tuesday Asian tradeespecially in the event of a rebound in regional indices. Nonetheless, the chart below suggests selling AUDJPY on the rallies near 80 continues to be the modus operandi for AUD traders, especially as the lower highs in the stochastics signal a continued bearish divergence.
More Hot-Charts
Nov 12, 2021 12:55 | by Ashraf Laidi

https://www.binance.com/en?ref=13288560...

Nov 8, 2021 17:05 | by Ashraf Laidi

We know that Gold's commitment reports from the Comex is for the trading working period ending in a Tuesday.

Aug 10, 2021 18:42 | by Ashraf Laidi

The below analysis was carried out last Friday (Aug 6th), after which both BTC and ETH have risen more than 14% each.
Hot-Chart Archives