Hot-Charts
EURJPY Next Cycle Turn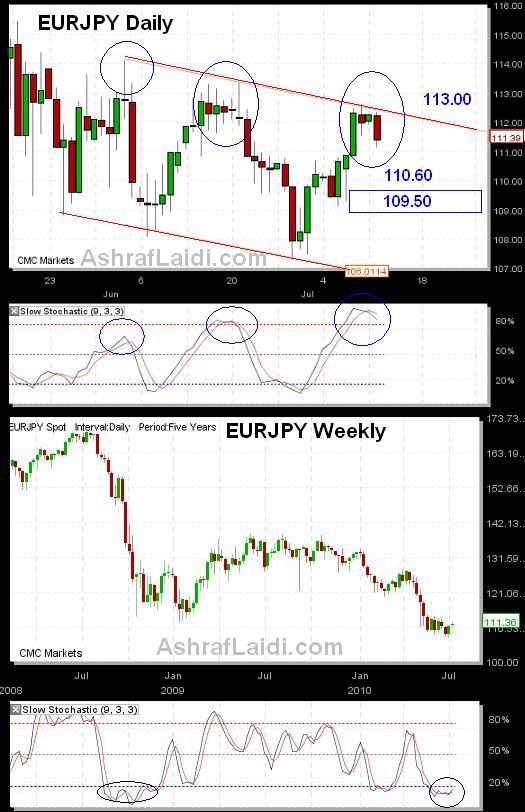 EURJPY 5% month-to-date recovery looks vulnerable to a downward correction as the uncertainty from US corporate earnings meets overlaps with the multi-faceted interpretation of the Eurozone banking stress-tests. Sticking with my medium negative outlook for USDJPY and EURUSD, selling EURJPY appears a logical conclusion, which is especially highlighlted by its price action. Downward channel converging with negative stochastics after the failure of 113, suggesting 110.60 and 109.90 could work in the short-term. A retest of 107.70 would have coincide with Eurozone-driven risk aversion, in which case would trigger the perfect strom of yen gains and euro osses. TWO WARNINGS for the bears, however, are the "HIGHER HIGHS" seen in the DAILY stochastics chart as well as the potentially positive stochastics formation on the WEEKLY chart, in which case, shorts may consider stops at 113.10-40.
More Hot-Charts
Jan 7, 2020 11:17 | by Ashraf Laidi

The latest on share price performance of major forex firms shows CMC Markets in the lead, up 34% since January 2019, followed by IG Markets' 20% and Swiss Quote at 9%.

Nov 18, 2019 21:34 | by Ashraf Laidi

Those who have shorted equity indices over the past 3 weeks (like I have) were simply wrong.

Oct 16, 2019 15:08 | by Ashraf Laidi

As GBP becomes the 2nd highest performing currency in the G10 since the start of the year, posting daily gains not seen in 10 years, here is a look at the current yields situation, with GBP...
Hot-Chart Archives