Hot-Charts
Euro Net Spec Shorts Seen Followed by EURUSD Spot
Click To Enlarge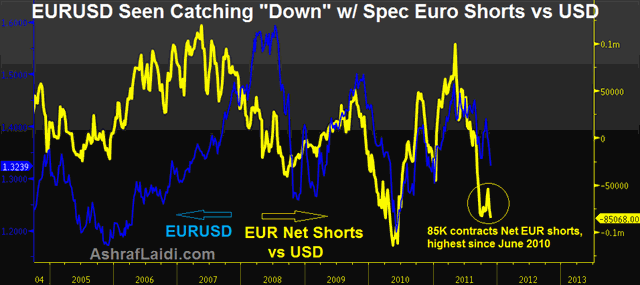 Net speculative shorts in EUR vs USD have reached 85K contracts, their highest since mid June 2010 .... which is the worst of last years PIIGS crisis, coinciding with the bottom in EURUSD at 1.1870. With the Eurozone landscape deteriorating following 4 bailouts (2 for Greece, 1 for Portugal, 1 for Ireland) and the AAA rating of France and Germany on the verge of being re-considered (or downgraded), the arguments for further downside in EURUSD is bolstered further. For the Technically-versed readers, EURUSD remains a head-&-shoulder formation, with 1.29 seen re-emerging before mid Q1 2012. As hedge funds further unload EUR longs, while others re-enter fresh shorts, the EURUSD spot rate is expected to catch-up with surging net short-interest in EURUSD. None of these conditions are expected to stabilize the soaring swap costs of USD at Eurozone banks.
More Hot-Charts
Jun 22, 2023 16:46 | by Ashraf Laidi

I mentioned last week on here on how and why both gold and USD are falling together. Since then, the trend accelerated alongside another detail.

Mar 17, 2023 21:28 | by Ashraf Laidi

.

Jan 11, 2023 10:57 | by Ashraf Laidi

If the DAX40 maintains its habit of extending 13% above its 200 DMA, then current upside may extend to as high as 15300, just below the 76% retracement of the decline from the Jan 2022 high to...
Hot-Chart Archives