Hot-Charts
Yin Yang of Yen & Yields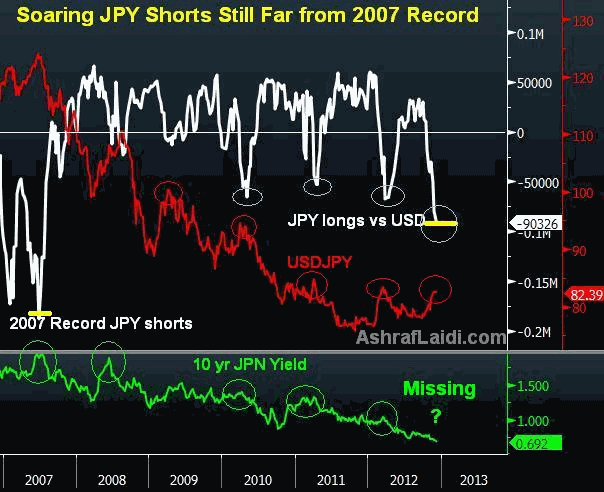 ESCALATING JPY SHORTS VS USD in the Chicago Mercantile Exchange show the highest negative positioning (90,000 contracts) in the currency since the June 2007, but that remains far from the (188,000 contracts) record reached earlier that same year. Back then, USDJPY was at a 5-year high of 124.14, global equities hit new records, private equity deals were raging with extreme leverage and even busts in US mortgage providers were still under the media radar.
ALSO IN JUNE 2007, yields on 10-year Japanese government bonds jumped by more than 40 bps to exceed 1.80%. The yield rally was broad throughout the global sovereign complex, prompting Japanese investors to flee zero interest rates to chase returns abroad. Unsurprisingly, yields on the US 10-year note also a hit a 5-year high at 5.32%.
Today, the yen is entering its 3rd consecutive monthly decline amid expectations that LDP head Shinzo Abe will force the Bank of Japan into extreme easing of monetary policy when he is likely to win the elections on Dec 16. Stepping up military and construction spending and pressing on the asset purchases accelerator are part of Abes goal of attaining a new 2-3% inflation target.
RESULT: Yen is falling in spot and futures FX markets, while global equities are flirting with new highs for the year.
BUT THE MISSING LINK REMAINS IN BONDS. Unlike in 2007, when global yields were triggered by an overheating global economy and elevated inflation pressures, global yields today are mired by margin suppression, financial repression, interventionist central banks and continuous downgrades of global growth by the IMF and all major central banks. 10-year JGBs remain adrift at generation lows below 0.70%, while their US counterparts are 30 bps above their all time lows.
With the yen falling at such rapid pace despite languishing yields, a mere bounce in bond yields would quickly intensify the selling in the Japanese currency.
Thus, IN ORDER FOR JPY SHORTS to breach above the 100,000 contracts territory, markets may need some help from further run-up in equities.
More Hot-Charts
Apr 30, 2015 15:25 | by Ashraf Laidi

Wednesday's 378-point collapse in Germany's DAX-30 index—a 3.2% drop, was the biggest in a single day since the eruption of the Spanish/Italian debt crisis in June 2012.

Mar 27, 2015 20:03 | by Ashraf Laidi

In the week ending Tuesday, March 24, The CFTC's commitment of traders report on speculative futures contracts, showed net euro short positions vs.

Dec 13, 2014 3:02 | by Ashraf Laidi

Much was written about this week's equity selloff, being the biggest drop since Sep 2011 etc.
Hot-Chart Archives