Hot-Charts
Top in Dollar Index?
Click To Enlarge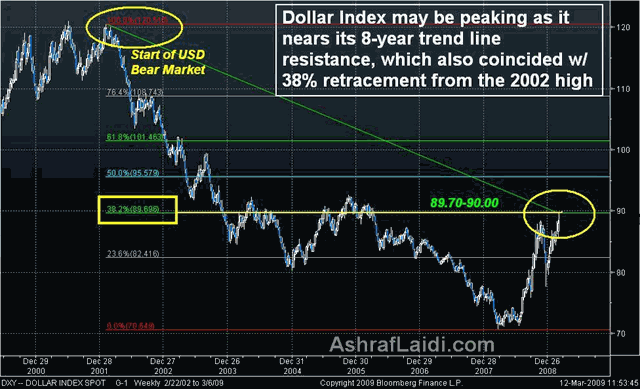 Emerging signs of a top in the dollar index as the currency falters against EUR, AUD, NOK, NZD and even JPY. GBP remains the exception, whose fundamentals in the banking sector remain most bleak. It may be argued that recovering stocks are weighing on USD, but in such conditions wed expect USDJPY to also rally. Chart below shows the index has faltered right at 89.60, which marks the 38% retracement of the decline from the 2002 high to the 2008 low as well as the TL resistance extending from the 120.50 high of Feb 2002. This is a medium term call, which suggests the 86 figure as the next target, supporting 1.2930 in EURUSD and 94 in USDJPY.
More Hot-Charts
Mar 14, 2019 11:48 | by Ashraf Laidi

Ashraf Laidi of Intermarket Strategy, returns to Real Vision to analyze the historical cycles in the British pound and to discuss the fundamental backdrop & news regarding Brexit, runs...

Feb 12, 2019 11:40 | by Ashraf Laidi

Share price performance of all publicly traded Forex firms is clearly down since the summer on a combination of plummeting traders' interest in cryptocurrencies and a tightening of European...

Jan 17, 2019 14:14 | by Ashraf Laidi

أداء العملات مقابل الذهب يشير الينا ان الين اقوى عملة و الكندي الأضعف كما نشاهد التحسن الملحوظ في اداء الإسترليني منذ بداية العام.
Hot-Chart Archives