Hot-Charts
EURUSD and Oil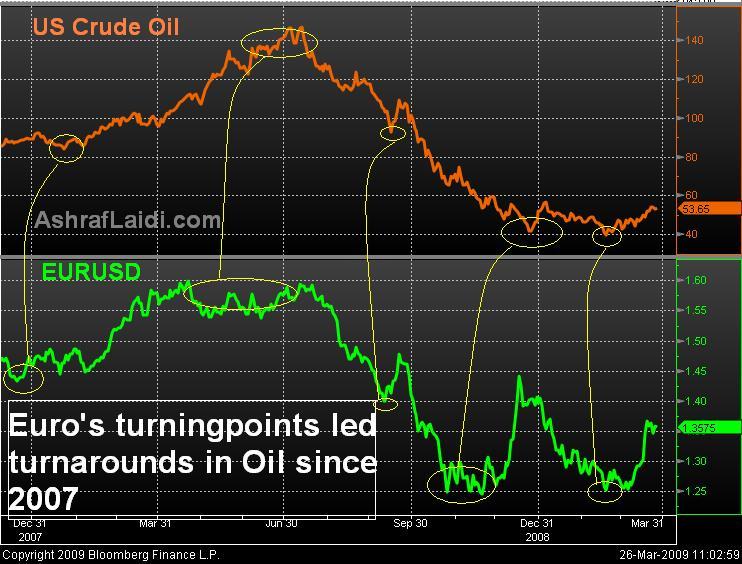 While the positive correlation between EURUSD and oil is well documented the time lag between the two merits scrutiny as it has turned consistent in favour of the euro over the past 16 months. The chart shows that bottoms in EURUSD have led bottoms in oil prices and so have peaks in the exchange rate and oil. Considering $1.33 to likely hold into mid April, this will likely boost oil into $55. The major downside for the euro is for the repetitive failure to breach above $1.3740 to transition into a new wave of selling into $1.3245 and $1.31 inn which case may trigger $47 per barrel.
More Hot-Charts
Jan 7, 2020 11:17 | by Ashraf Laidi

The latest on share price performance of major forex firms shows CMC Markets in the lead, up 34% since January 2019, followed by IG Markets' 20% and Swiss Quote at 9%.

Nov 18, 2019 21:34 | by Ashraf Laidi

Those who have shorted equity indices over the past 3 weeks (like I have) were simply wrong.

Oct 16, 2019 15:08 | by Ashraf Laidi

As GBP becomes the 2nd highest performing currency in the G10 since the start of the year, posting daily gains not seen in 10 years, here is a look at the current yields situation, with GBP...
Hot-Chart Archives