Hot-Charts
CADJPY Downtrend Intact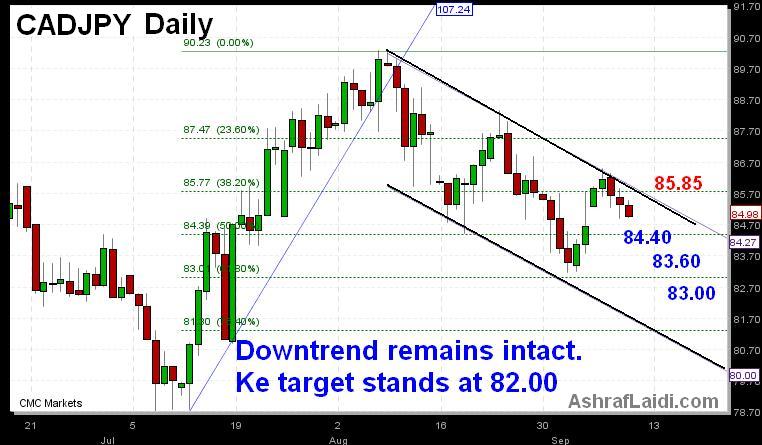 CADJPY continues to show a generally predictable downtrend despite the noise from occasional waves of risk appetite. Such price action is similar to USDJPY, whose peaks have consistently respected the various falling trend lines. The trend line from the 90.23 high thru the 88.39 high held up earlier this week, paving the way for a preliminary target of 84.45 and a break of which (below 84.30) to open the path for 83.60. Any rebound remains capped at 85.80. USDCAD still expected to regain 1.09 and onto 1.1030.
More Hot-Charts
Mar 14, 2019 11:48 | by Ashraf Laidi

Ashraf Laidi of Intermarket Strategy, returns to Real Vision to analyze the historical cycles in the British pound and to discuss the fundamental backdrop & news regarding Brexit, runs...

Feb 12, 2019 11:40 | by Ashraf Laidi

Share price performance of all publicly traded Forex firms is clearly down since the summer on a combination of plummeting traders' interest in cryptocurrencies and a tightening of European...

Jan 17, 2019 14:14 | by Ashraf Laidi

أداء العملات مقابل الذهب يشير الينا ان الين اقوى عملة و الكندي الأضعف كما نشاهد التحسن الملحوظ في اداء الإسترليني منذ بداية العام.
Hot-Chart Archives