Hot-Charts
Commodities 2017 Performance
Natural Gas is the biggest winning commodity in 2017 up 58%, followed by brent oil, sugar, crude oil, palladium, copper, soya, silver, gold, coffee and wheat -14%.
Click To Enlarge
Click To Enlarge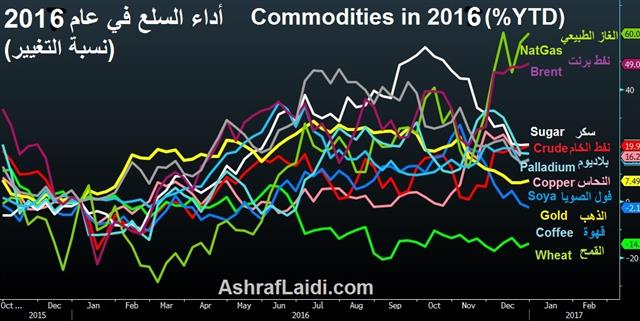 More Hot-Charts
Feb 15, 2018 18:55 | by Ashraf Laidi

Why is USD sustaining fresh selling despite expectations of 3-4 Fed hikes this year. Does the budget deficit matter for FX. And one more look at gold. Watch the full video..

Aug 24, 2017 19:30 | by Ashraf Laidi

In comparing the year-to-date sector performance for the S&P500 to that of 2016, the 2 most striking developments is the reversal in energy stocks from best performer in 2016 to the worst so...

Jul 10, 2017 13:41 | by Ashraf Laidi

As Bitcoin is set to post its first 3-day consecutive daily drop in nearly 4 months, digital currency traders will want to know more about the biggest potential development currently surrounding...
Hot-Chart Archives