Hot-Charts
More Downside in Equities from here
DAX-30
The worst performer among G7 equity indices, Germany's DAX forms an ominous Head & Shoulders formation, whose declining neckline coincides with the 100-week moving average and the bottom of the three-year channel. Such triple confluence of support levels stands against deteriorating momentum as seen via bearish convergence in stochastics.
Are we falling for the common trader error of calling for further declines right at the bottom? Drawing upon the momentum and Death Cross considerations (55 DMA < 100 DMA & 55 DMA <200 DMA), as well as the fundamental calls for a recession-bound Germany, the time may be ripe for eventual weekly break of the 8,750, at which point the path towards 8,150. Such a move does sound alarming, given the index has already fallen 13% from its June highs. But the realisation that neither the Fed's promises of keeping rates (despite ending QE) nor the ECB's experimenting with negative rates and asset-backed securities is sufficient to stem the tide of German and Eurozone disinflation, will be the catalyst for these upcoming declines.
Click To Enlarge
Click To Enlarge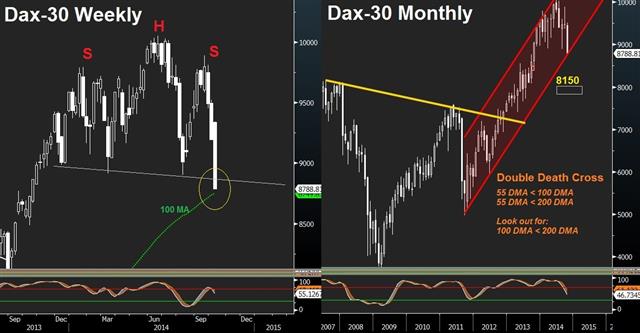 FTSE-100
Although the FTSE10 has fallen by a more modest 8% from its year highs, compared to 13% for the Dax, the UK index never reached record highs as did its German counterpart earlier this year. Most prominent is the FTSE-100's breakdown of both its three-year and five-year trendlines/channels.
Aside from the parlous state of FTSE-100 momentum on the weekly and monthly charts, the Death Cross considerations seen in the 55-DMA < 200-DMA and the looming 200-WMA awaiting at 6,121 suggest at least an additional 3% decline.
If political uncertainty in Westminster stemming from defections out of the market-friendly Conservative Party into the coalition-threatening UK Independent Party (UKIP) is a concern for market stability, then things could only get worse over the upcoming eight months. Any improvement in the fortunes of the anti-EU UKIP would be detrimental to EU-UK business relations, particularly for small and medium-sized UK companies as the party augments chances of the UK voting to leave the EU at the 2017 referendum.
Despite the UK's superior GDP growth in the G7 -- as determined by the IMF—and its broadening improvement in labour markets (plunging unemployment and soaring jobs creation), markets remain worried with muted earnings growth and the aforementioned political considerations.
Click To Enlarge
Click To Enlarge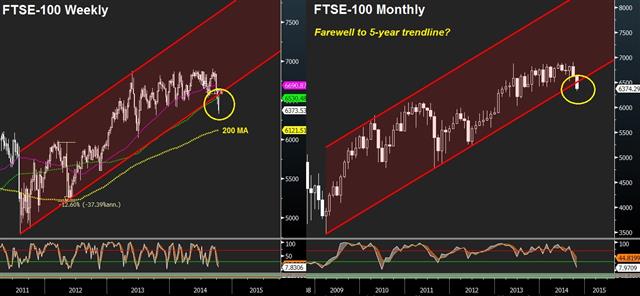 More Hot-Charts
Jun 22, 2023 16:46 | by Ashraf Laidi

I mentioned last week on here on how and why both gold and USD are falling together. Since then, the trend accelerated alongside another detail.

Mar 17, 2023 21:28 | by Ashraf Laidi

.

Jan 11, 2023 10:57 | by Ashraf Laidi

If the DAX40 maintains its habit of extending 13% above its 200 DMA, then current upside may extend to as high as 15300, just below the 76% retracement of the decline from the Jan 2022 high to...
Hot-Chart Archives