Hot-Charts
Net spec euro shorts at record high after 3-year wait
In the week ending Tuesday, March 24, The CFTC's commitment of traders report on speculative futures contracts, showed net euro short positions vs. USD rose to a new record -220,963 contracts (more shorts than longs) from the prior week's -193,774 contracts. The -220,963 record finally breaks the old high of June 2012 of -214,418 contracts.
Excessive speculative longs and shorts are often used by traders as contrarian sign, but deciding upon what determines "excessive" is debatable. Comparing the EURUD spot price relative to the speed of the increase in euro shorts is one way to assess any potential divergence between price and sentiment/positioning.
Too early to be contrarian?
Net EURUSD shorts have posted 3 consecutive weekly gains, finally hitting a new record high. But the fact that speculative short have increased despite the EURUSD spot rate posting its biggest weekly gain in three years, followed by further gains this week, we ask when will speculative positioning starts to ease?
Looking at 2012, net euro shorts first hit a new high in mid-May, extending for three weeks before net shorts reversed. But the spot price did not make its first meaningful recovery until three weeks later. Whether this suggests that EURUSD will begin its first meaningful recovery (> +10%) in mid April remains to be seen.
Next week's release of the US jobs report will shed valuable light in shaping the latest on the next fed funds hike, before the April FOMC meeting is scrutinized for any change of syntax. Divergence between sentiment and price is on traders' mind. Next week's jobs report and its unpleasant March seasonality may trigger the catalyst.
Click To Enlarge
Click To Enlarge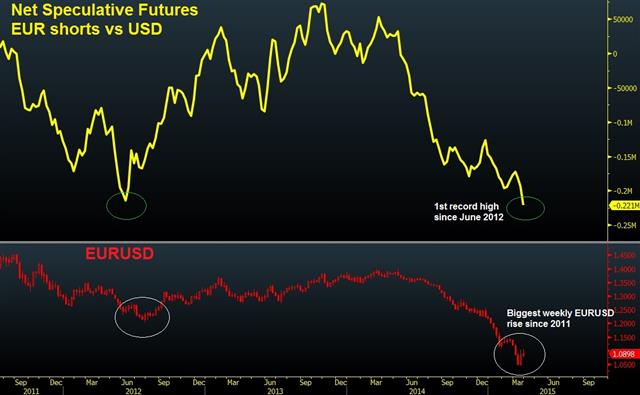 More Hot-Charts
Jun 22, 2023 16:46 | by Ashraf Laidi

I mentioned last week on here on how and why both gold and USD are falling together. Since then, the trend accelerated alongside another detail.

Mar 17, 2023 21:28 | by Ashraf Laidi

.

Jan 11, 2023 10:57 | by Ashraf Laidi

If the DAX40 maintains its habit of extending 13% above its 200 DMA, then current upside may extend to as high as 15300, just below the 76% retracement of the decline from the Jan 2022 high to...
Hot-Chart Archives