Hot-Charts
Surging UK CDS ahead of Scottish Referendum
UK CDS continue gaining following the biggest weekly increase in over 2 years. The 5-yr CDS is testing its 200-DMA for the first time since June2013. The UK Treasury has sought to calm bond market fears by guaranteeing the Scottish part of UK debt in case a newly independent Scotland goes on with its threat to not honour its obligations of the UK debt. Part of the decline in interest rate hike odds has emerged from anticipation that the BoE would be forced into its "lender of last resort" role during the uncertainty-filled period following a "yes" vote, and preceding the official independence. So, can the UK handle such guarantees one year after emerging from a triple dip recession and barely graduating from the school of austerity?
Click To Enlarge
Click To Enlarge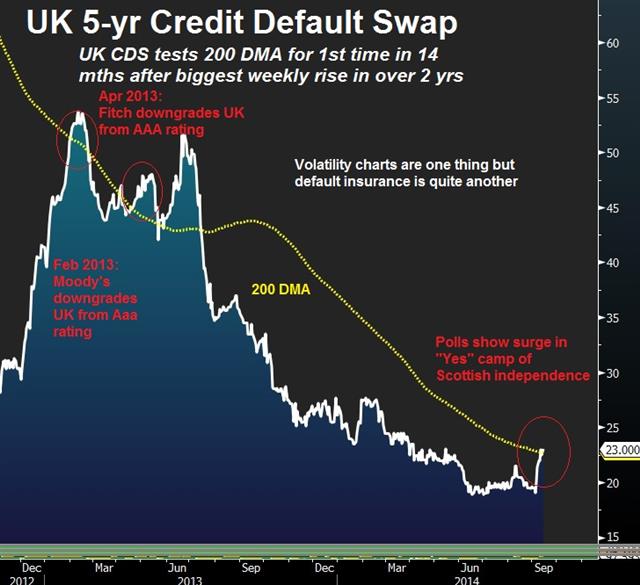 More Hot-Charts
Dec 6, 2022 14:34 | by Ashraf Laidi

We know the DXY is highly correlated with USD/CNH so if the Head-&-Shoulder on USD/CNH formation proves valid, then further USD downside lies ahead. ..

Nov 12, 2021 12:55 | by Ashraf Laidi

https://www.binance.com/en?ref=13288560...

Nov 8, 2021 17:05 | by Ashraf Laidi

We know that Gold's commitment reports from the Comex is for the trading working period ending in a Tuesday.
Hot-Chart Archives