Intraday Market Thoughts
AUD Jobs Shocks again, RBNZ Cuts, USD Sinks
Year-end is tricky time to draw any conclusions about market moves but we're watching a few trouble spots closely. The US dollar was weak across the board while the euro and yen led the way. The kiwi jumped despite an RBNZ cut and the Australian jobs once again shocked to the upside (more below). The Premium Insights saw GBPNZD short stopped out with 20 pips below the session high before the pair plunged. An AUDNZD long was issued ahead of of the RBNZ and the Aussie jobs report. USDJPY short was closed with a 155-pip gain.
Click To Enlarge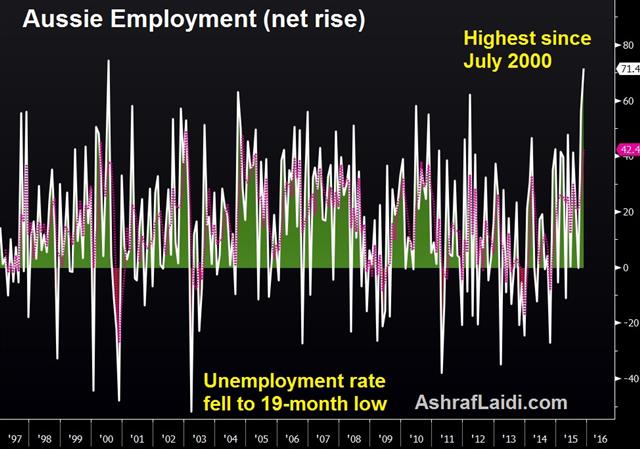 The latest move in FX was a 100-pip jump in the New Zealand dollar to 0.6720 after the RBNZ decision. Wheeler cut rates to 2.50% from 2.75% in a move that was mostly expected but the market rallied because there was no explicit hint of further cuts. He pushed out the forecast for hitting the 2% inflation target by only one quarter.
What was more striking on the day was the volatility. The S&P 500 was up as much as 20 points and then fell by as many as 26 and finished down 16. Oil rallied on tighter US inventories and then fell to session lows.
The yen was unusually strong, even on a day with US stocks falling. It was accompanied by a 5% swan dive in the South African rand to record low. We may look back in six weeks and see it as an early sign of a big carry trade unwind but for now it's tough to assess.
Australia produced another stellar jobs report, with employment soaring 71K in November vs expectations of a 10K decline, following a massive 56K jump in October. Another positive is that 42K of the 71K jobs were full time. The unemployment rate fell to 5.8% from 5.9%, defying expectations of a rise to 6% and the participation rate rose to 65.3% from 65%.
AUD/USD soared to 0.7335 from 0.7222 after coming off the boil for the past three days. Before that it had shown a remarkable resilience to bad news. Today's news pit the strength of the Aussie against the ongoing bad news from the commodity space.
Act
Exp
Prev
GMT
Business NZ PMI (NOV)
53.3
Dec 10 21:30
Food Price Index (NOV) (m/m)
-1.2%
Dec 10 21:45
Consumer Prce Index (NOV) (m/m)
0.0%
-0.1%
-0.3%
Dec 09 1:30
Consumer Prce Index (NOV) (y/y)
1.5%
1.4%
1.3%
Dec 09 1:30
FDI - Foreign Direct Investment (YTD) (NOV) (y/y)
8.6%
Dec 11
Unemployment Rate s.a. (NOV)
5.8%
6.0%
5.9%
Dec 10 0:30
Employment Change s.a. (NOV)
71.4K
-10.0K
56.1K
Dec 10 0:30
Fulltime employment (NOV)
41.6K
38.5K
Dec 10 0:30
Part-time employment (NOV)
29.7K
18.6K
Dec 10 0:30
Latest IMTs