Intraday Market Thoughts
BoC Outlines Arsenal in Commodity War
If commodities collapse in 2016 or some other crisis hits the Canadian economy, the Bank of Canada is ready. The BOC laid out the different ways it could ease if necessary in what could be blueprint of what's to come. The Swiss franc was the top performer on the day while the Australian dollar lagged. Chinese CPI is due up next. Ashraf's Premium Insights closed out of the GBPUSD and DAX shorts at a gain of 182 pips and 270 pts respectively.
Click To Enlarge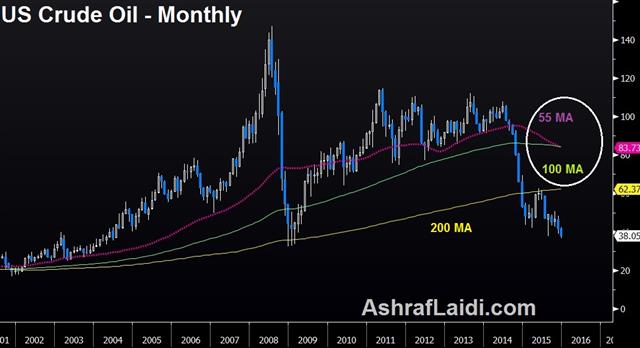 Five things to keep in mind regarding CAD:
1. Oil fell to the lowest levels since 2009 and that pushed USD/CAD to the highest in 11 years.
2. BOC Governor Poloz said rates could be cut as low as -0.50% along with forward guidance and QE if a shock hits the Canadian economy.
3. Canada's main equity benchmark closed at the lowest level since 2013 and is down 16% since April. Benchmark Canadian oil is trading at a $13 discount to WTI – just $24/barrel.
5. The commodity super-cycle began in the late 1990s and lasted more than 15 years. The bust has been ongoing for 15 months.
5. Mining giant Anglo American announced 85,000 job cuts, 62% of its workforce. The company doesn't have significant operations in Canada but it's a sign of things to come in the commodity sector.
Economists and central bankers have a particular tendency to assume the distant future will look like the past. The BoC repeatedly under-estimates the pain in the commodity sector and assumes a CAD-driven rebound in manufacturing will absorb the blow.
The risk in 2016 is that commodities fall much further and don't rebound. At least you can say that the BOC is ready but if that arsenal of tools is deployed, USD/CAD could rise much higher . The pair broke the 61.8% retracement of the 2002 to 2007 decline yesterday. A full retracement would hit 1.60.
Whether it's a hard or soft landing for Canada has as much to do with China as with anything. The Shanghai Securities News reported the PBOC will cut the RRR in December in what would surely be welcome news for the BOC.
The PBOC at the moment isn't limited by inflation, especially with oil falling. The risk is that inflation falls even further and gives them more space for aggressive stimulus. Watch the CPI report at 0130 GMT; it's expected to show prices up just 1.4% y/y.
Act
Exp
Prev
GMT
Consumer Prce Index (NOV) (m/m)
-0.1%
-0.3%
Dec 09 1:30
Consumer Prce Index (NOV) (y/y)
1.4%
1.3%
Dec 09 1:30
Latest IMTs