Intraday Market Thoughts
China CPI Leaves Room For Action
Modest Chinese inflation left room for a rate cut but the PBOC stayed on the sidelines on the weekend. Markets were severely roiled last week and finished at the extremes, we survey some of the damage. The economic calendar is light in the Asia-Pacific region to start the week but there will be an intense focus on the yuan and Chinese stocks.
Click To Enlarge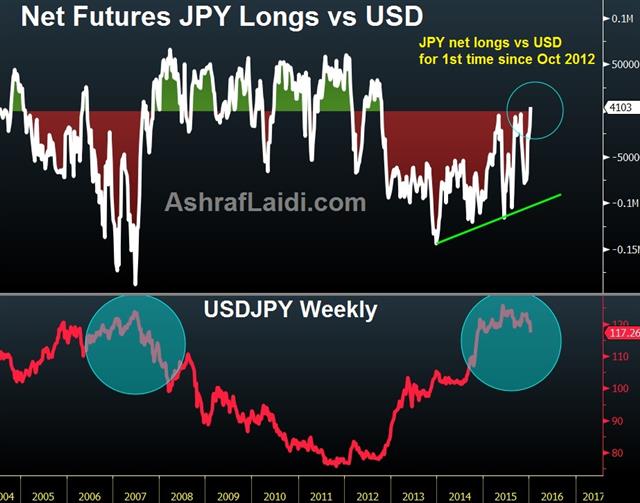 The Chinese Dec CPI rose 1.6% year-over-year in data released on the weekend. It matched the consensus estimate was slightly higher than the 1.5% y/y Nov reading. The PPI was down 5.9% y/y in a sign that inflation pressures remain on the downside.
In the past six weeks the state-sponsored Chinese press has had multiple rumours of PBOC action but none have come to fruition. Leaders are likely struggling with fears that action will be seen as a sign of desperation.
On Friday, the yuan fixing was slightly stronger to end a streak of eight consecutive declines. The improvement was a negligible 0.001 points in a signal that optics are now as important to the Chinese government as fundamentals.
The offshore yuan finished slightly weaker on the day and the onshore yuan fractionally higher but the gap between the two still favours a softer yuan at the 0115 GMT fix. Another time to highlight on the daily calendar is 1000 GMT to 1130 GMT. Within that time is the usual window of PBOC action on interest rates.
The question is: How will markets react? The answer might be that it depends on when it comes. A quarter-point rate cut with a reduction in the RRR would best be delivered after a few days of more-stable markets. That would diminish the chance that it's viewed as a panic move, like it was in August.
As markets re-open for the week, the focus will be on stocks. There will be some initial negative pressures after the weak finish in US stocks along with many weekend headlines emphasizing that it was the worst 5-day start in the S&P 500 ever.
In FX, so far this year the worst performer is AUD/JPY, which is down nearly 7%. NZD/JPY is close behind while CAD/JPY is down 4.75% and even the USD is down 2.5% vs JPY.
Commitments of Traders
Speculative net futures trader positions as of the close on Tuesday. Net short denoted by - long by +.
EUR -161K vs -161K prior JPY +4K vs -17K prior GBP -30K vs -31K prior AUD -14K vs -18K prior CAD -60K vs -61K prior NZD -1.5K vs +0K prior
The strength in the yen to start the week was underscored by net yen positioning flipping to long for the first time since October 2012.
Latest IMTs