Intraday Market Thoughts
China's Yuan Holds Markets Hostage
Whether this week's violent moves in global equities are the main reason markets and the US dollar failed to garner any meaningful gains despite another solid 292K increase in US nonfarm payrolls is a question that will be asked several times this year. The US jobs report did show a disappointing 2.5% y/y in average earnings –a reflection of lasting slack in the pool of available workers—a widely prevalent phenomenon in both sides of the Atlantic—if not the Pacific.
Click To Enlarge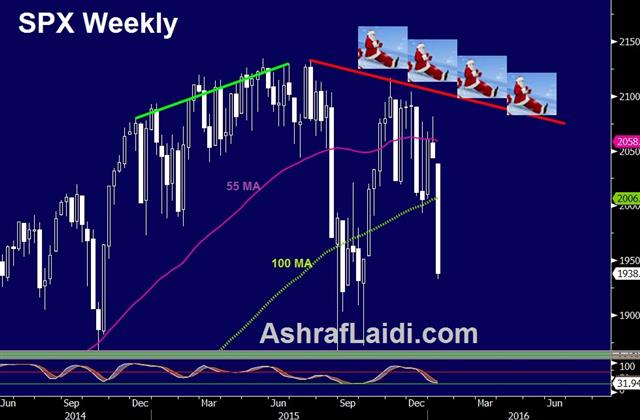 Some economists claim that a recovery in average hourly earnings is just a matter of time as long as labour markets tighten further and the unemployment rate remains low. They may be disregarding the quality of these jobs (retail, hospitality and leisure), which are not exactly known for their high pay…neither the fact that employees with two part-time jobs may be helpful to personal consumption, but no to the extent of stoking inflation.
You want a free currency? Careful
This week, every trader learned a new reality in intermarket dynamics: The PBOC announces a lower CNY value at its 1:15 GMT fixing, causing Asian equities and US futures to fall on worries of a lower Chinese purchasing power, prompting the safe haven JPY higher across the board –including against the US dollar. The process has been especially striking as Chinese markets shut for the 2
nd
day in the first 4 days of the year.
The West had long demanded China to free its currency from artificial weakness, until the day has finally come. The yuan's SDR era is coinciding with broadening weakness in the world's 2nd biggest economy, and speculators can't get enough out of shorting its currency. Last month's decline of more than $100bn in China's FX reserves is a sign of Beijing's attempts to stabilize its currency (buying by selling USDs) to stem excessive capital outflows. Beijing is really trying, but free markets is also synonymous to further CNY pain.
More interest rate cuts in China are inevitable, and additional CNY weakness is now a question of 5% or 10%. The Fed could always flex its muscle and deliver a cosmetic hike in the Fed Funds rate of 0.25%, which is meaningless for monetary policy as long as not a single cent of the +$4.4 trillion in bonds is sold. So think twice before you go on about policy divergence.
There are currently 6 Premium trades in progress (5 in the green 1 in the red), addressing the above situation. This week, we closed GBPJPY and DAX shorts for a cumulative total of 1,005 pips (points), while the GBPAUD short was stopped out for a 500-pip loss.
Latest IMTs